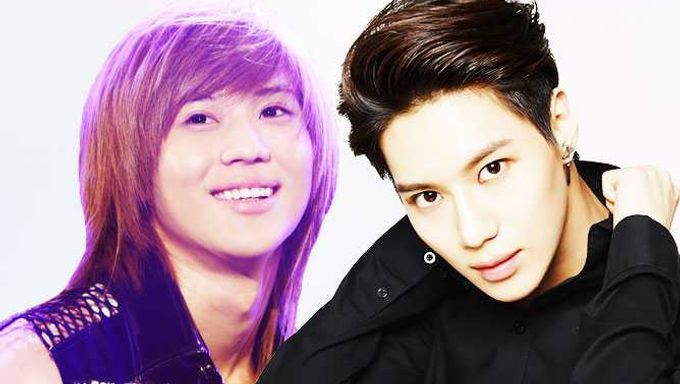 Which hair style do you think works well with K-idol star boys, long or short?
To satisfy variety of needs of fans, idol stars have changed their styles more than a hundred times. Hair is the most effective way to change one's impression, so many stars try different hair styles every time they bring new albums. From long like girls to short emitting endless fancy charm, Kpopmap has compiled hairstyle comparisons of idol boys.
Must Read : Male Celebrities Look Good With Long Hair
Watch which length looks good with each idol boys!
TaeMin – SHINee
DRAW. TaeMin showed off his own long hair for SHINee's 2 album, 'Lucifer', in 2010. His long hair brought endless pretty-boy charm. When he came back to short style, he became a real man.
HongBin – VIXX
Short Wins. Fans definitely define HongBin looks better with short hair style. When he debuted, he used to have long style, but it was not really welcome by public. However, his short hair style in the later albums has attracted enormous numbers of fans' hearts.
ChanYeol – EXO
DRAW. ChanYeol looks good with both lengths. It is because of his sentimental aura. When he is with long hair, he emits vintage feelings, and he becomes fancy man with short hair.
ZICO – Block B
Short Wins. ZICO absolutely looks better with his short bright colored hair. When he had a long style, the long reggae style hair looked like a big anaconda which is almost like to eat him. His short hair brought him endless charm, fortunately.
BONUS
Idol Boys with long hair due to cross-dressing. Look at the two adorable girls. Full make-up and beautiful long wave hair complete their ultimate beauties. Don't be panic. They are not girls, but the hottest idol boys, XIA and KangNam. Enjoy their lovely looks.
XIA JunSu - JYJ & KangNam – M.I.B
Must Read : 11 Male K-Pop Idols Who Slay the Blonde Hair