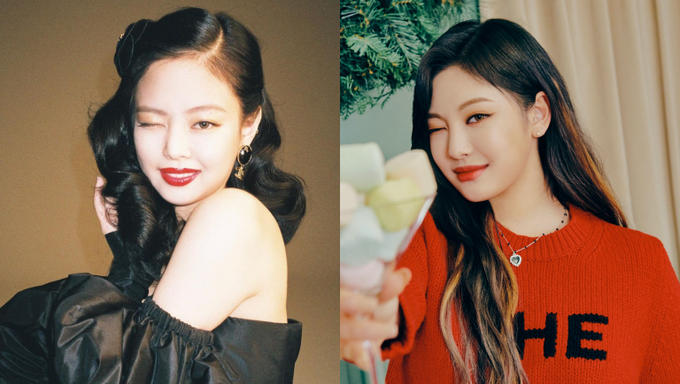 Welcome to the second article of Kpopmap's bi-weekly series "Idol Look-A-Like"! This series will look at two popular K-Pop idols that are known for looking like each other and how similar their visuals are. However, there may occasionally be actors compared to idols included as well. 
NCT's Jeno and THE BOYZ's Eric opened the series for us. This week, readers voted for BLACKPINK's Jennie and aespa's Ningning in our bi-weekly poll (at the end of the article) to be featured this week. Fans believe they have a big resemblance to each other. 
BLACKPINK's Jennie is known for her duality. She can be chic and fierce in one moment, then look absolutely cute the next moment. aespa's Ningning is known for her adorable face and ability to pull off sultry visuals, as well. 
Both aespa's Ningning and BLACKPINK's Jennie are popular for having cat-like eyes.
They are both experts at sassy poses, too.
Ningning and Jennie look very similar when they smile and look down, especially because of their noses and face shape.  
They both also have a knack for pulling off fashionable looks. 
What do you think of their visuals? Do you see the resemblance?
Are there any other Korean celebrities that you think look alike? 
Who would you like to see in the next "Idol Look-A-Like" article?
~ Oct 07, 2021
BTOB's MinHyuk and TXT's SooBin
14.6%
Everglow's E:U and CLC's Sorn
9.8%
ITZY's RyuJin and Han SoHee
34.1%
BTS's Suga and SEVENTEEN's WooZi
17.1%
TWICE's DaHyun and Rocket Punch YeonHee
17.1%
SF9's Yoo TaeYang and Lee DongWook
7.3%
Important notice: the vote only decides who will be covered in the next article. Everyone in the poll will be covered in the series eventually. Suggestions will also be gradually added each week.