DoYeon and YooJung, former members of I.O.I will be debuting as i-Teen Girls.

What is special about this groups other than DoYeon and YooJung being the members, is that they have their own channel in V App Channel even before their debut. Their channel started from March 22nd with 20 episodes released so far.
This was a picture released to raise the curiosity of the public before they started the channel.
After being on air, all members were shown, and some of them were already familiar to us through Produce 101 Season 1 such as Jung HaeLim, Chu YeJin and Lee SeoJeong. Also other members were Kim SooKyung, Noh HyoJung, Kang SoEun. Whether all trainees will be debut is still unknown.
However, fans love seeing the preparation of debut and the small daily routines of them. In the last episode, YooJung was on air with her puppies and there were about 3.5 million viewers.
It was not only through V app, but also through reality programs such as Dodaeng's Diary in LA, where YooJung and DoYeon went to LA for training and for vacation, where fans were able to see what's going on.
They are also preparing  web dramas and web cartoons as well.
Fans call them the icon of communication since they feel so friendly to i-Teen Girls already.
Making a firm fandom before the debut makes sure of the group's success after debut, which seems to be a good marketing strategy.
Must Read : Fantagio Girls (i-Teen) Profile: 2017 Group with I.O.I's DoYeon & YooJung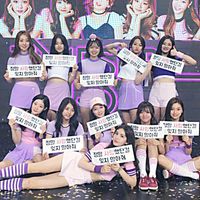 Became a fan of I.O.I
You can now view more their stories