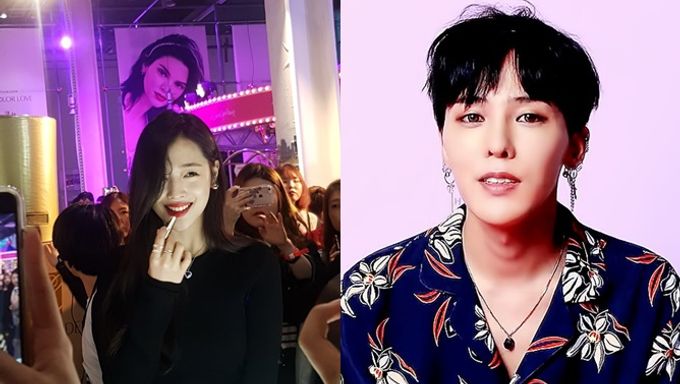 Celebrity couple news always breaks the hearts of fans.
However, there are some couples who are irrefutably great together, while the others... are not so much.
Here are some rumored couples that are (thank goodness) not true.
1st place – Sulli and G-Dragon
After Sulli and Choiza split, rumors of Sulli and G-Dragon dating became a hot topic. Although many fans refused to believe even a second of it, there were some alleged proofs that caused a confusing riot between the public. The heart shaped ring that both idols wore were posed in the similar time frame of the idols' trip out to Paris for a fashion show. Other photos taken at an amusement park together with friends were also very convincing. However, both entertainment labels denied the scandal, and things quieted down since then.
2nd place – Mina of Twice and BamBam of GOT7
They were known to be close friends, until this photo was all over SNS. Looking too close to be friends, many fans were certain that they were going out. Although JYP Entertainment officially stated that they were just best friends, some still believe that they are secretly going out.
3rd place – Jessica of SNSD and TaecYeon of 2PM 
Two of the hottest idols caught in a blazing affair? TaecYeon and Jessica were caught spending time together at various cafés' in Tokyo, Japan and Apgujung, Korea. However, they simply said that they were friends, and fans seemed to believe them because where they were caught in such open spaces. Had it been a secret affair, they would've had to hide.
4th place – Nam TaeHyeon, former member of WINNER and Jung RyeoWon, an actress
This was such a huge issue because Jung RyeoWon is 13 years older than Nam TaeHyun. There were no evident proofs for this scandal, but netizens believed it because of the many Instagram posts, from movie posters to restaurants, that matched. Both labels responded that the two were friends in a common group of people who share similar interests. Nam TaeHyun simply said that he will be careful not to post anything personal which can controversial, and the rumor ended quietly.
5th place – Victoria from f(x) and ChangMin of DBSK
Their scandal was called "Spoondal" because it started from a picture of a spoon and chopstick posted onto Victoria's SNS. The silver spoon reflected a man's figure, and fans connected it to ChangMin. SM Entertainment officially said that the man was ChangMin, but they were with other friends.
6th – Jin of BTS and Lee GukJoo
Lee GukJoo is a famous comedian who is often seen on many TV shows with idols. Jin, doing programs with her, seemed to have gotten very close with her. He often named Lee GukJoo in his "Dedicated to" messages for being helpful, and fans were so curious as to why Jin kept on mentioning her. Netizens suspected a secret affair between the two. However, GukJoo said that she was a good buddy to him, but they weren't going out ever.
Must Read : GOT7 BamBam and TWICE Mina's "Bed Selfie" Confirmed to be Real