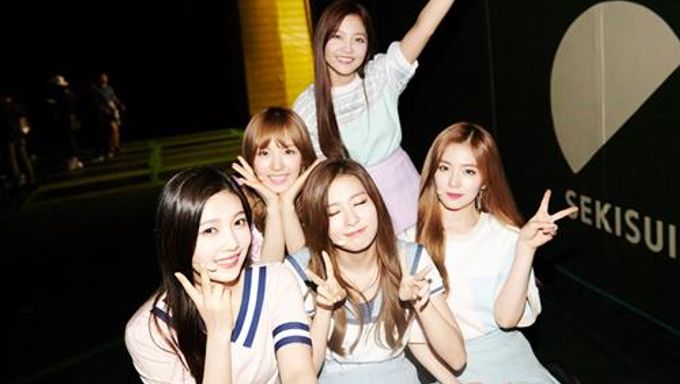 If you're a fanboy, can you be your bias' ideal boy? And name a female idol that best suits your ideal type!
K-idols are in the midst of attention as they revealed their own ideal type. Most stars' equable ideal type make their fans imagine how to be near to her ideal type. But don't judge a thing by just what you see since some of the stars have occasionally changed their ideal type whenever new album are released. These idols often get asked that what qualities do they look for in their ideal partner? Sometimes its answers are specific, sometimes devious, often mentioning another celebrity who is the closest to their ideal type.
SM Girls Coming Back to Five-Member : Red Velvet Profile▼
Around the world, fangirls and fanboys have always wondered about all of them and have wanted to be getting closer to them. So, we've roundup some of your favorite star's ideal signature. The kinda man that your bias would be attracted to? If you're a member of one fandom, these would be a list you should know.
This time is only for all the Red Velvet fans out there!
1. Ideal Looks
Irene : Someone warm who is good at expressing themselves.
Seulgi : Someone comfortable, laughs a lot, and looks pretty when he laugh, totally, a man who has a cute-like face.
Wendy : Someone respectful, caring and is pretty when they laugh ㅡsmiles brightly and looks innocent. Also a man who eats well because she likes cooking so she want to cook them a lot.
Joy : Someone who matches her personality and really depandable, A guy who lives by the rules, works hard on their stuff, has a clear thought of his own. Plus she likes a sexy type of person. But the most important thing is that he don't look at anyone else.
Yeri : A man who is mannerly and can be caring to her.
2. When asked to pick a Korean celebrity that closely resembles their ideal type
Irene : None ; She never had any ideal type among male celebrities.
Seulgi : Kang Dong-Won and Jisung who recently mentioned ; Her ideal man changes frequently.
Wendy : Comedian Park Myung-Soo ; She likes father-like person who is nice kind and caring to her.
Joy : Kang Dong-Won and So Ji-Seob.

Yeri : So far, none have been proven.
Who do you think fits RV's ideal Type personality?