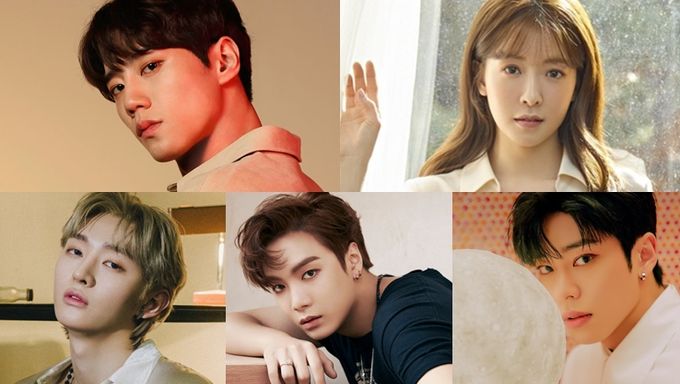 "I'll Become Your Night" is a healing romantic comedy with idols. It is one of the few dramas of 2021 about K-Pop idols.
U-KISS's Jun (Lee JunYoung) ("Goodbye to Goodbye", "Class of Lies", "Good Casting", "Please Don't Date Him", "Imitation") and Jung InSun ("Welcome to Waikiki", "My Secret Terius", "Psychopath Diary", "How To be Thirty") are confirmed for this drama.
NU'EST's JR, Yoon JiSung, AB6IX's DongHyun, and Jang DongJoo are also part of the cast raising the interest of fans. JR and Yoon JiSung are debuting in acting with this drama. But note that JR had some acting experience before in the Japanese movie "Their Distance" and that Yoon JiSung is acting in musicals. AB6IX's DongHyun has previous experience with the web drama "Convenience Store Fling". Fun fact, the three idols were part of "Produce 101" Season 2.
Jang DongJoo is an actor who previously acted in "My Strange Hero" and "Class of Lies". Jun and Jang DongJoo previously acted together in the OCN drama "Class of Lies".
The drama's first news was released to the public back in 2019 under the name "Idol's Doctor" back then Jun also received the offer. "I'll Become Your Night" is to air in the second half of 2021.
We will keep on updating, stay tuned.
I'll Become Your Night (2021)
Information
Title: I'll Become Your Night / Neoui bami doeeojulge / 너의 밤이 되어줄게
Director: -
Writer: -
Network: SBS
Runtime: Second half of 2021
# of Episodes: 12
Genre: Romantic comedy, Idol
Language: Korean
Summary
It is the romance between a famous idol (part of the idol band LUNA) who is suffering from somnambulism and a suspicious resident doctor who enters the group's dorm in order to secretly treat him.
Cast
Jung InSun as In YoonJu
She is a resident doctor who enters LUNA's dorm to treat TaeIn.
U-KISS's Jun (Lee JunYoung) as LUNA's Yoon TaeIn
TaeIn is part of LUNA one of the most famous idol bands. He is suffering from somnambulism.
NU'EST's JR as LUNA's Lee Shin
Shin is the bassist of LUNA. He looks like he is free-spirited but when you get to know him more, he is actually pure-hearted and he is the style to put in everything for love. He has a lot of noona fans.
Yoon JiSung as LUNA's Kim YooChan
YooChan is LUNA's drummer. He debuted as a child actor at the age of 7. People were calling him the "nation's son" but he was soon forgotten.
He became a trainee and debuted as part of LUNA. He seems to have a lot of ambition but when you get to know him, he is actually lonely and covered by scars. Because he always smiles brightly, fans gave him the nickname "Mister Sunshine".
AB6IX's DongHyun as LUNA's GaOn
GaOn is LUNA's maknae and is at the keyboard. 2 years ago when he was 17 years old, he passed the competition as 1 out of 10 000. He has excellent keyboard playing skills but because of his unpredictable 4D personality, he is hard to understand and scares others.
He is a cute maknae who acts like a teen during puberty with his hyungs (members) with the exception of TaeIn. However, in front of the fans, he is shy. He also keeps a secret from the past.
Jang DongJoo as LUNA's Seo WooYeon
WooYeon is LUNA's guitarist and sub vocalist. He is the pillar of the group who takes special care of the members.
Interesting Facts
Here is the official Twitter of the drama.
<너의 밤이 되어줄게>를 기다리는 여러분을 위한 마지막 선물!!
인윤주 역의 정인선 배우, 윤태인 역의 이준영 배우로부터 메시지가 도착했습니다💌
⠀#너의밤이되어줄게 #인윤주 #정인선 #윤태인 #이준영#많은_기대_부탁드립니다❤️ pic.twitter.com/giUgo8NqbA

— 너의 밤이 되어줄게 (@yourknight_twt) August 27, 2021
<너의 밤이 되어줄게>를 기다리는 여러분을 위한 두 번째 선물!!
서우연 역의 장동주 배우, 이신 역의 김종현 배우로부터 메시지가 도착했습니다💌
⠀#너의밤이되어줄게 #서우연 #장동주 #이신 #김종현#내일도_기대해주세요❣️ pic.twitter.com/4R82Wi8ci6

— 너의 밤이 되어줄게 (@yourknight_twt) August 26, 2021
<너의 밤이 되어줄게>를 기다리는 여러분을 위한 깜짝 선물!!
김유찬 역의 윤지성 배우, 우가온 역의 김동현 배우로부터 메시지가 도착했습니다💌
⠀#너의밤이되어줄게 #김유찬 #윤지성 #우가온 #김동현#내일은_누구일까요❔ pic.twitter.com/W9lQe67cMy

— 너의 밤이 되어줄게 (@yourknight_twt) August 25, 2021