The love scandal of BaekHyun of EXO and TaeYeon of SNSD was like a bomb to fans. They officially admitted that they were together and dated for about one year and three months before official breakup.
After the couple's breakup, another SM couple, Krystal of f(x) and Kai of EXO broke up as well. Not a lot of fans like hearing their idols dating officially, so the news about their break ups may have brought the fans in peace. 
However, recent picture from SM Entertainment's trip to Jeju Island is showing a chance of reunion of an SM couple. 
TaeYeon was caught holding BaekHyun's button down shirts! Well, we can't say that they are back together only from holding a shirts, however, a shirt tells quite a lot of things. It's usually the girlfriends who wear their boyfriend's shirts or clothing. 
Hmm, guess there needs to be more evidence to say that they are back together, but clearly, this is the first sign.
Must Read : BaekHyun Gets Sensitive When It Comes To GF Issue On 'Brothers'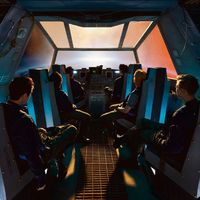 Became a fan of EXO
You can now view more their stories