What does the future hold for the K-Pop scene?
At the moment, some people believe that the future for the industry may have a lot to do with virtual reality and avatars. SM Entertainment founder Lee SooMan notably has always expressed a keen interest in putting together A.I and virtual reality with K-Pop.
Back in 2017, Lee SooMan spoke quite enthusiastically about A.I and virtual reality seeing an immense growth in the market very soon and being key components in establishing a virtual empire throughout the world. Lee also shared an interesting idea of how A.I idols and A.I versions of existing human idols would behave and look exactly like the real idols, and be used to create content for K-Pop fans.
Which is why the debut of aespa this year isn't really much of a surprise coming from SM Entertainment.
The rookie girl group consists of four members Karina, Winter, Giselle, and Ningning, with each of them all having their own avatar.
aespa, has been in the spotlight recently not just because they are SM's newest rookie girl group, but also because of their concept, which some K-Pop fans believe to be very similar to that of K/DA, a virtual girl group that has seen an immense success ever since their debut in 2018, and have a consecutive string of hits such as 'POP/STARS', 'The Baddest', and 'All Out'. In fact, there has even been plagiarism accusations claiming that aespa's MV and concept blatantly copied K/DA's, but that is an on-going debate for a different occasion.
So it seems that the concept of VR and avatars really is something that the K-Pop scene is really wanting to invest itself more into, given how things are rolling at the moment.
Even BLACKPINK, have low key and indirectly dipped their toes in this concept in a sense, given their massive collaboration with PUBG.
How have fans and the public been reacting to K-Pop's relationship with virtual reality and A.I so far? Well, it mainly involves Lee SooMan and the statements he made regarding the relationship between the two, and his thoughts on them.
"he's insane for this" and it's just lee sooman feeding the sasaeng's minds by planning to use advanced intelligence to create idol avatars for the fans to own. he's literally insane insane. pic.twitter.com/gMfLOCnEKh

— maria ʚɞ K开I (@ohsenh) October 28, 2020
And on Reddit...
Some fans have suggested some things that might be pros.
One of them according to a fan is how virtual idols won't be capable of being involved in scandals. Well, if you put things into that perspective...
There's also other things to consider as well.
Professor Kwak KeumJoo of Seoul National University stated:
"Virtual characters will be able to do whatever we wish and even expand our creative possibilities because they'll be able to do things that we can't,".
He also added:
"But because they're fictional characters, we can't hold them liable for their actions. For instance, if a character does something immoral or illegal, then it's difficult to hold them responsible for it, because holding them to human standards will be a fuzzy area. Both outcomes are possible depending on which direction we go in."
So it seems that the concern that many K-Pop fans have at the moment is in regards to how idols are increasingly being treated more as products to satisfy a fan or customer, and not as artists or human beings.
What are your thoughts on K-Pop's merge with virtual reality and A.I?
Became a fan of aespa
You can now view more their stories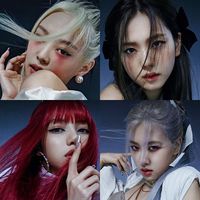 Became a fan of BLACKPINK
You can now view more their stories