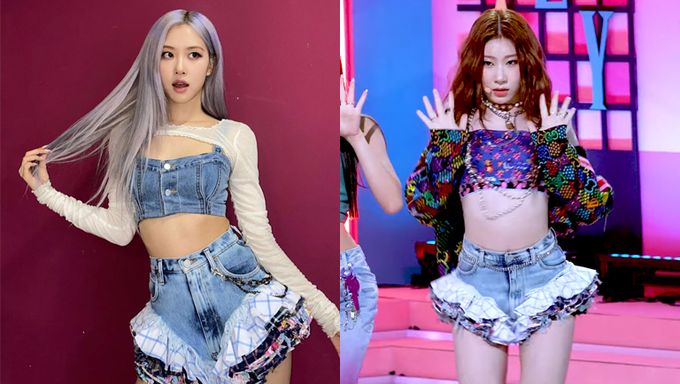 Kpopmap is back with another moment where two K-Pop idols of different groups were seen wearing the same piece of clothing.
This time, it is none other than ITZY's ChaeRyeong and BLACKPINK's Rose.
Both of them were seen wearing the ruffled hem denim shorts by 'Natasha Zinko' and it is unfortunately sold out.
Rose was seen wearing it during a stage performance for 'How You Like That' some time ago. She had matched it together with a cute denim bra top.
As for ChaeRyeong, she was also seen wearing it during a recent performance for 'Not Shy'.
Her stylist her paired her outfit with a 'Gucci' colourful jacket and gold boots.
While the two of them were seen rocking the shorts, many fans also love how both of them were seen wearing the same pair of shorts. They noticed that it helps to accentuate their legs and both also look pretty in it.
BLACKPINK will be releasing their single 'ICE CREAM' with Selena Gomez on Aug. 28 and ITZY is currently promoting 'Not Shy' on various music shows.
Do you also love the shorts on them?