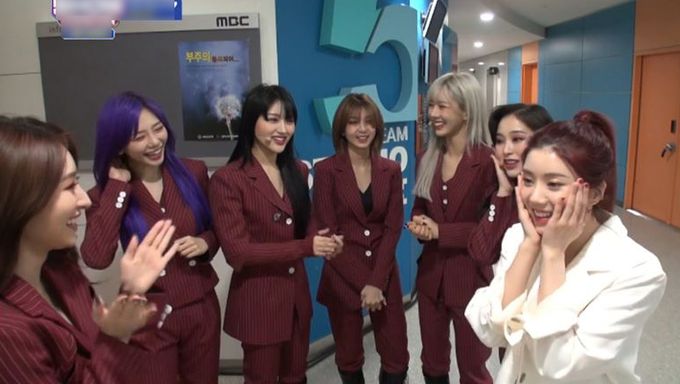 As K-Pop idols are just like us, many of them actually also have a 'fangirl' or 'fanboy' mind in their heart. Sometimes, they also wish to get close to some of the other idols but did not have the opportunity to do so.
On the most recent episode of "Show Champion", IZ*ONEwas seen doing a interview and that was when leader EunBi shared that she wants to get close to DREAMCATCHER.
The rest of the members were also surprised when EunBi mentioned that DREAMCATCHER had covered 'FIESTA' in a radio show and wanted to get to know them too.
They were very touched and thanked them too.
Moving on to DREAMCATCHER, they had also mentioned that IZ*ONE is really beautiful.
They were also shy when they heard about how EunBi had mentioned them and started to 'blush'.
At that moment, EunBi and YuRi were walking along the corridor and they had noticed each other too.
DREAMCATCHER started to send their 'love signals' towards the 2 IZ*ONE members which caused each of them to burst out laughing.
In the end, EunBi had entered the camera and they began to greet and introduce one another.
It looks like both EunBi and DREAMCATCHER had a rather good time getting to know each other at the backstage of "Show Champion".
Fans who had seen the moment could not help but mentioned that they were happy to see both groups getting close to each other. They also pointed out that with their blooming friendship, they could not wait to see future interactions between the two groups.
Are you also supporting their lovely friendship?
Read More : The 180 Degrees Difference Of IZ*ONE's WonYoung In 'FIESTA' and 'SO CURIOUS'