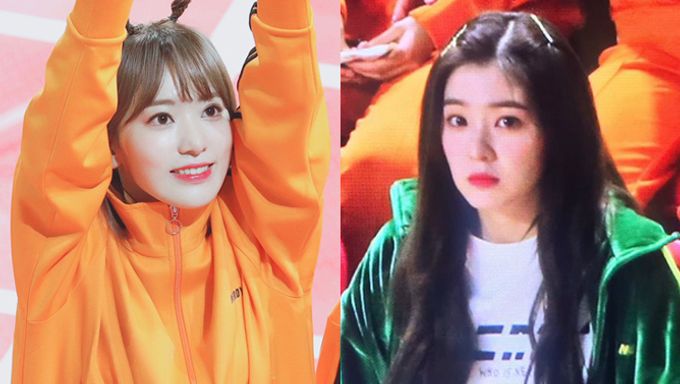 Did you know that IZ*ONE's Sakura is a huge fan of Red Velvet's Irene?
Previously, she mentioned on IZ*ONE's reality TV, "IZ*ONE Chu" that she is a fan of Irene and since then, many of her fans have been waiting for her to be able to meet Irene in real life one day.
On January 7th, IZ*ONE and Red Velvet took part in the recording for MBC "ISAC 2019" Seollal! To find out more about the full lineup, you can check it out here.
Fans noticed that when IZ*ONE and Red Velvet were sitting in the artist section during their waiting time, Sakura was checking out Irene in a shy manner.
Sakura and fellow member Nako were seen whispering and as if egging each other to go and talk to Irene. Fans also commented how they were behaving like shy girls who have met their crush.
They also kept turning their heads to the direction where Irene was seated with fellow Red Velvet members.
However, fans were not able to see the two female idols interacting with each other but hoped that Sakura was at least able to introduce and greet Irene in backstage!
Read More : IZ*ONE's Miyawaki Sakura Is A Fangirl Of Red Velvet's Irene