Jang HyunSeung was a member of BEAST before the group disbanded. The rest of the five members of BEAST have moved on and made another group, HIGHLIGHT. HIGHLIGHT has topped various music charts and was on diverse TV programs as soon as they re-debuted. Fans supported them more than ever, after waiting patiently for their re-debut. 
If HIGHLIGHT debuted without Jang HyunSeung, why wasn't he part of the group, what has he done, and what was he doing after being a solo artist? So many questions arose and there were too many different answers at the moment of BEAST's disbandment. 
Now, since times have passed and the truth was revealed, let's go over what really happened to BEAST and HIGHLIGHT. 
But before anything else, Jang HyunSeung posted an apologetic letter on his SNS about his past wrong doings. Let's check out the letter first. 
Hi. This is Jang HyunSeung. 

This is going to be quite a long post, but I do want to share my thoughts and feelings with you.

For the last 7 years, I've been loved with the love that I did not deserve while performing as BEAST. Since I was young, I always thought singing and perfroming on stages and on TV was amazing, so I was trained for 5 years to acheive my dream and debut as BEAST.

After I have debuted, it seemed like I have ahieved my dreams. 

However, there was something within me that kept on persueing a personal taste of music. I was stubborn to keep my ways and thoughts of music, which naturally made me careless in working as a team. The long period of me being egoistic build an unbreakable wall between me and the members and I foolishly chose to walk away from them.

By then, I really lost control of myself, I acted foolish and careless on stages as well as formal events. Every actions I took was immature and foolish, but I thought that I was just enjoying youth that time. I regret it greatly.

 I was really hard for me to apologize because of my strong personality. After I have gone through disbandment, I went through a lot and they were really tough. But after I have let go of my ego, I knew I was going down and by realizing that, I was enlightened and gained freedom. I did not see myself and just kept hurting others. I realized what I've done to others by being selfish.

I really want to apologize to people who were hurt by me.

I am truly sorry. 
For foreign fans, they may not know what he had to apologize so deeply for. So, here are a brief summary of his "past wrong doings." 
1st -  2015 September fan meeting
There was a fan meeting where fans from foreign countries came to see BEAST. The fan meeting was costly to foreign fans since they had to pay for the flight ticket and accommodations. Jang HyunSeung did not show up and no one could tell why. The rest of the members had to go on without him, not even knowing why their member isn't there with them. 
The problem does not end here. Through Instagram, fans caught him sitting in a cafe during the time of the fan meeting. He has hung out with a woman who may be his sister. After then, he hung out with his friends till 3:00 a.m. and this was proven by his friends SNS, his pictures taken with them were posted continually and he pressed Likes on everything.  
The fans came all the way from different countries paying expensive fees just to meet him and he ignored his group's schedules and attended his personal schedule without even noticing anybody.  
A month later, BEAST was on V live. He was asked a question "What was the most memorable moment during the 6 years of performance as BEAST?" He answered, "People taking photos of me in the cafe. I have privacy,  you know." Really...? He is expressing his anger of being caught in a cafe when he had to be attending a fan meeting...? 
A lot of fans asked for feedback on this whole incident but the company as well as the idol, himself, did not leave a single comment about it.
2nd -  2016 New Years Selfie
On 2015 12 31, BEAST was attending SHow DC Countdown in Bangkok. To celebrate the new year, all members gathered to take selfie. However, he leaves the spot, not joining his members in the photo. His manager told him to join but he just shakes his head in no. A lot of cameras were running at that moment and fans were watching them. He was acting selfish and childish in front of their fans and the camera.  The selfie was supposed to be posted, but because Jang HyunSeung did not join, the picture was never uploaded. 
3rd - Countless moments of dozing off and looking at cell phones during interviews.
Not only in interviews held in Korea but those held in Austrailia and Japan, he kept dozing off or use his cell phone while the camera is running! He does not seem to mind a bit in events he was participating. He doesn't even care to greet his fans while other members do.
4th - Not dancing on stages
He was caught a lot not even moving on stage, covering his face with a cap. On one stage, he did not move for over 47 seconds out of 3 minutes stage.
He isn't difficult to find in those two giffies... Still did not find him? Look for the one that's NOT MOVING.
There are so much more proofs that he did not even care a bit about fans and his career. Also, it just looks a bit too late to apologize... Fans doubt his apology to be crocodile's tears and say he is just faking it to get his music bought. 
Must Read : DECEMBER 13, 2016 Former BEAST Member, Jang HyunSeung Re-Signs Contract with Cube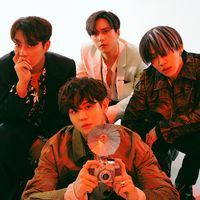 Became a fan of Highlight
You can now view more their stories