Jay Park Warns Koreaboo About Drug Scandal
Jay Park was pissed off about Koreaboo's wrong use of his and Dok2's photos on the drug scandal on its purpose to get lots of netizen's attentions!! 
On Nov 21, the Koreaboo, one of the hottest K-pop web portal in North America, released the erroneous drug scandal on its web page. The controversy was the photo they used for the report. The pictures of Jay Park and Dok2, never related to the scandal, were on the head of the article, and this has led great anger aroused among the numerous fans of those hot musicians.
Related Post : Why Jay Park Wanted To Diss JYP?
On the next day, Jay officially expressed his uncomfortable feeling about it and criticized the Koreaboo's distorted way of gathering netizen's clicks on his twitter.
"@koreaboo so yall just gon use me and dok2's pic like that when you know it aint's us? Lol desperate for clicks huh?" by Jay Park's twitter.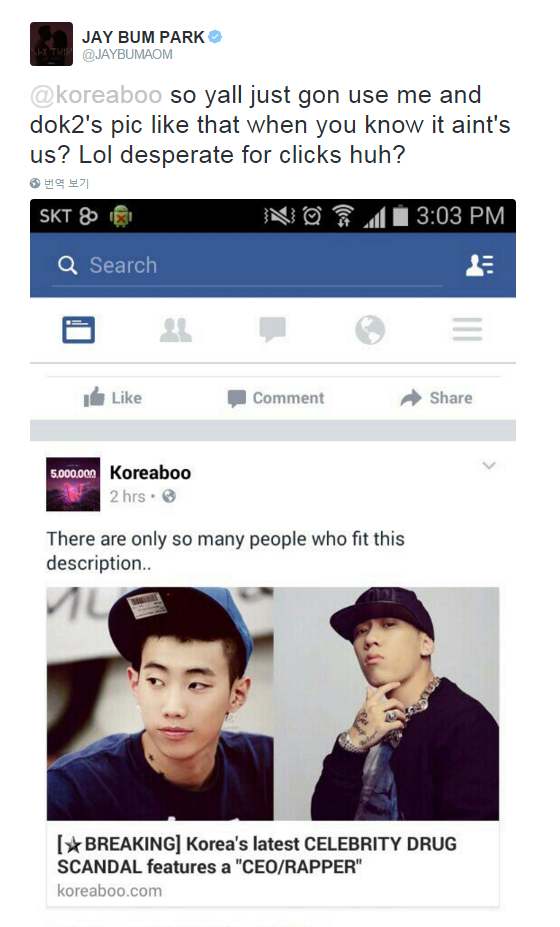 A lot of his fans supported him and, further, encouraged him to sue the website. No legal action seems going to happen, but the Koreaboo soon displaced the article to avoid possible conflicts any more. This case might be a good lesson for many hit-begging K pop web portals.