BLACKPINK Jennie's stunning look always make fans fall for her. Let's check out how perfect she is with those luxury brands.
In a Radio program, BLACKPINK's other members selected Jennie to be a member who cares about fashion the most. This is the reason why Jennie always looks perfect and hot. Of course, other members' fashion senses are nice though. But Jennie's one is on another level. She often just becomes 'The brand' herself, such 'Human GUCCI' and 'Human CHANEL'. These cute nicknames that netizens named for her show that she does wonders in her fashion. What's even special here is, that she pretty often wears luxury brands like LANVIN, CHANEL, GUCCI, Saint Laurent, etc. Those brands fit Jennie's gorgeous and luxury atmosphere so well.
Whatever she put on her body, it makes a hit in Korean fashion market. She's making trend now. Let's check out how many luxury dresses Jennie showed off so far. Here we go!
1. CHANEL
2. DOLCE & GABANA
3. GIVENCHY
4. LANVIN
5. Marc Jacobs
6. Vetements
7. OFF-WHITE
8. Sretsis
9. Saint Laurent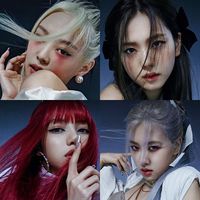 Became a fan of BLACKPINK
You can now view more their stories