The drama "When I Was Most Beautiful" just started. It tells the heartbreaking love story of a woman trapped in her destiny and the road that she can't take between brothers who wanted to protect her. Im SooHyang, Ji Soo, Ha SeokJin, and Hwang SeungEon are the lead actors of this new romance drama.
In the first episode, this romantic scene caught our attention.
Be aware of spoilers from the first episode. 
The first episode is set in the past. Ji Soo is acting as Seo Hwan a high school student.
On that rainy day, he was on his way to school on his bike when he noticed that a girl in front of him was using a lotus leaf as an umbrella.
All the students passing by her where laughing. However, he was curious and intrigued by that person.
He pedaled faster to reach her.
As he got a glimpse of Im SooHyang (acting as Oh YeJi), he fell in love at first sight in a beautiful scene.
She looked so graceful and beautiful that he kept looking at her ... until he fell off his bike. She did not even look at him.
This scene was well filmed and make us look forward to their romance.
If you are looking for more about the drama don't forget to check our cast and summary here.
Do you find the scene heart fluttering too?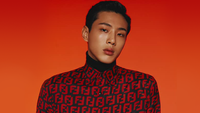 Became a fan of Ji Soo
You can now view more their stories