South Korean actor Jung HaeIn has finally responded to the recent controversy that took place at the Baeksang Arts Awards.
He was criticized for standing in the center position during a group photo. How is that controversial you ask? Well, it's because the group consisted of many winners of the award ceremony, including the winners of Best Actor and Best Actress. Jung recently won the Popularity Award during the event for his role on 'Pretty Noona Who Buys Me Food'. Many netizens have stated that the best actor and actress should have been standing in the middle of the photo.
Jung HaeIn has responded to these criticisms saying "Because it was my first time being at such a big event, I was nervous and wasn't thinking clearly. I was also unaware of my surroundings because I was nervous. I apologize for not being more alert and aware of what was happening around me."
However, new sources from South Korean news agency Sports KH tells us that it was actually the staff members of the event who suggested that he stand in the middle.
Netizens who continue to criticize the actor have stated: "If he really was nervous as he said he was, shouldn't he have been trying to stand somewhere other than the center of attention?"
Other netizens have stated:"He actually did look like he was petrified and nervous. Poor thing."
What is your opinion about Jung HaeIn's recent controversy? Feel free to share your thoughts below.
Read More : Jung HaeIn Profile: The New Rising Imaginary Boyfriend Existing inside Screen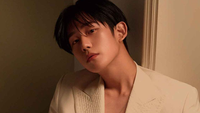 Became a fan of Jung HaeIn
You can now view more their stories