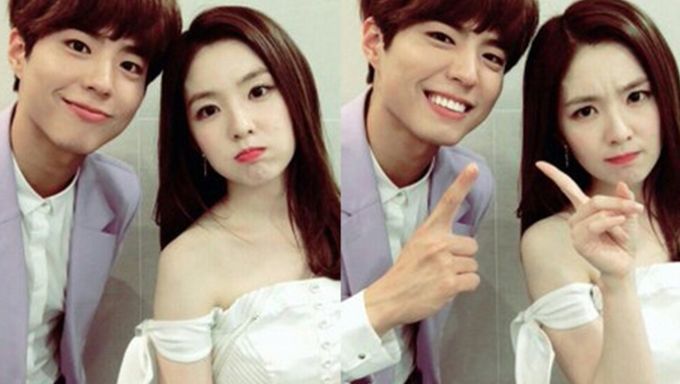 This is definitely one of the best K-Celebrity ships that many fans love as no one can deny the adorable and lovely chemistry between actor Park BoGum and Red Velvet's Irene!
The ship between them happened as many K-Pop fans noticed their sweet interactions and hosting skills when they were the MCs for KBS "Music Bank" from 2015 to 2016.
Before we get even more hyped up over this couple, let's find out more about them.
Park BoGum is one of the hottest actors out there in the industry and he debuted back in 2011 with a supporting role in the movie "Blind". He then continued with various acting works such as tvN "Reply 1988" which allowed him to earn his fame. In 2016, he starred along side with actress Kim YooJung in KBS "Love in the Moonlight" which furthered proved his popularity.
As for Irene, she debuted as a member of Red Velvet under SM Entertainment in 2014. Together with her members, they had won several music awards and also have hit songs such as "Rookie", "Red Flavour", "Peek-a-Boo" and many more which allow them to stand out.
During the time when they were hosting "Music Bank" together, fans noticed the awesome chemistry they had between each other.
Compared to other MCs, they seemed to be really comfortable with each other. In addition, fans also took note of the way they looked at each other too. It seemed as if there was something only the two of them knew.
Besides the interaction shown on screen, fans also noticed how Park BoGum held Irene by her side after "Music Bank" had ended.
It seemed like he was trying to 'protect' her from being bumping against other idols as many of them were exiting the stage. Whatever the reason may be, fans are loving his gentleman manners.
On the last day of "Music Bank" together as MCs, both of them also went through an interview with KBS "Entertainment Weekly". During that time, Irene confessed that her heart started to race when she heard Park BoGum calling her by her real name during a broadcast.
She explained further by saying that usually they tend to follow the script but that time, Park BoGum caused her heart to flutter when he used her real name. It was done impromptu by him!
They also attended a dinner to celebrate their hard work after 1 year of working together as MCs together.
Aside from the moments they had with each other on "Music Bank", fans also tried to think about Irene's preference for her ideal type and link it with Park BoGum. She said that she likes someone who is warm and many immediately thought of the actor.
Park BoGum is known to many people as a humble and nice person who would not hesitate to help people in need. As such, they believe that he suits her ideal type well.
However, disappointing many, she later revealed in MBC "Radio Star" that she does not have his contact number. Yet, fans are hoping that one day it is possible to see them together again.
What is Park BoGum up to?
It was recently reported that Park BoGum will be starring in a drama called "Boyfriend" with actress Song HyeKyo. It will be his return to the small screen after a hiatus of 2 years.
What is Red Velvet up to?
Red Velvet will be holding their concert, "Redmare" on August 4th and 5th to meet their fans in Seoul!
Read More : K-Celeb Fantasy Ships: Park HyungSik & Park BoYoung