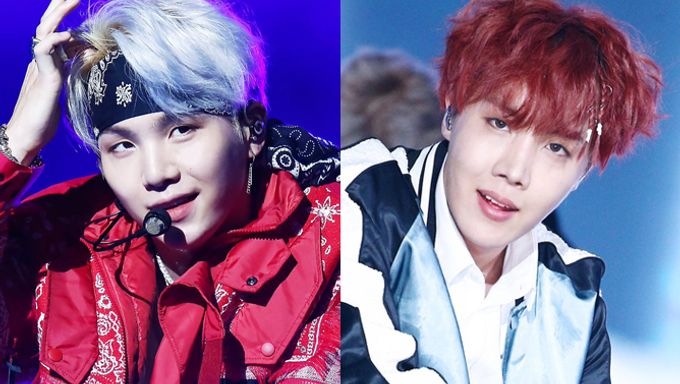 With the speed of rapping faster than LTE and dance skills that take your breath away, BTS's Suga and J-Hope is the pairing we wish to ship today. These two popular guys are known for their position as rappers and their talent to produce music.
Their friendship began when they first entered their current agency, Big Hit Entertainment, as trainees. Suga entered the company first after passing the audition in his hometown, Daegu. He hates it whenever the rest of BTS members bring up his audition video as he finds it embarrassing. During BTS 2017 Mnet Comeback Show, he was seen destroying a picture of his old video which brought laughter to many.
Whereas for J-Hope, he was accepted into Big Hit Entertainment with his amazing dance and rapping skills.
During a past interview, they were asked about each other's first impression. J-Hope revealed that when he first met Suga, he was only wearing underwear in the dormitory which caused him to be flustered. This was because it was not only their first meeting but it was also after he had left his home town, Gwangju, alone.
Despite their rather awkward meeting, they grew close to each other quickly as they began their training in the company.
After their debut, the two of them are always seen hanging out closely with each other. Fans love the interactions between the two of them and it shows despite their difference in personalities, both click well with each other.
They also call themselves 'SOPE' which is the combination of their stage names. On their official V-Live account, they had also done several broadcasts together. Their company has even acknowledged their unit and took photos of them in their uniform for their 3rd BTS Festa! We all love a supportive family.
One of the times which got fans laughing was during a monitoring session when BTS came back with their 'Blood, Sweat, Tears' in a music show. Suga was seen as a huge 'fan' of J-Hope and he kept shouting his name. It was till the extent which J-Hope was unsure what was going on anymore. Be careful if you are using earphones as Suga's voice may be too loud for you to handle.
During each other's birthdays, they also would never forget to show appreciation for each other by posting on their twitter account.
쩨이홉의 생일을 축하합니다 #슈가형이야 #예전폰찾느라힘들었다 #사진멋있다 #그리고나는배고프다 pic.twitter.com/WEPSaNtpdU

— 방탄소년단 (@BTS_twt) February 18, 2018
이 분의 생일 리액션이란.. #슈가생일ㅊㅋ pic.twitter.com/VFjWie7HLl

— 방탄소년단 (@BTS_twt) March 8, 2018
Many fans also believe that because of their similarity in their background and dreams, they were able to connect with each other much more deeply. In addition to that, their passion for music is indescribable.
'So Far Away' which is a track written by Suga in his mix tape, Agust D, describes about the contradictory between dreams and reality. Even though the dream to live a good life in reality may sometimes seem elusive, the song mainly talks about how it is alright to continue dreaming. Just like J-Hope's mix tape, Hope World, which was recently released. His title track 'Daydream' has similar concept but the groove and tone are way different from Suga's.
It is interesting to see how both of the boys are able to portray their problems in life in such different musical aspects and fans applause and salute to their way of expressing themselves.
Perhaps it is because of their love for music, they were able able to grow together as a team with superb chemistry.
To sum it up, their honest friendship with each other received jealousy from the fans and other K-Pop idols. We all believe that their friendship will last forever and will always continue to support their everlasting bond.
Read More : My Idol Photostory: J-Hope of BTS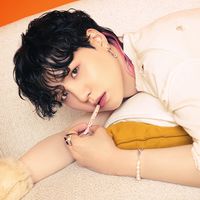 Became a fan of Suga
You can now view more their stories