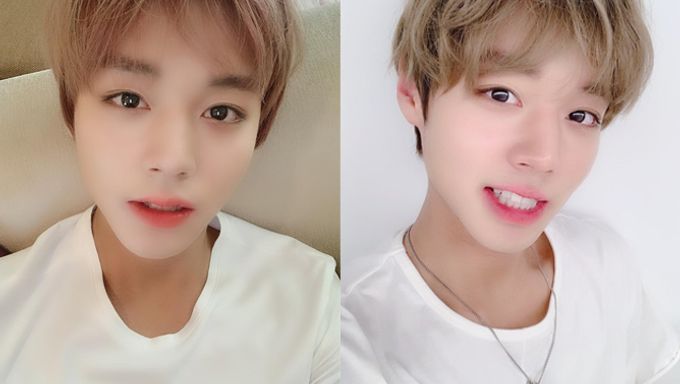 It is very common to hear Korean netizens give nicknames and labels to celebrities and one of the trending terms include 'Gwa-jeub Sang'. The literal translation means fruit juice face but it also means to have fresh, sweet and fruity look.
According to Korean media outlet, Insight, they have picked out 8 different Korean celebrities that remind them of different fruits!
#1 Hallabong (Jeju Island fruit)- SEVENTEEN's SeungKwan
Have you heard of the fruit, Hallabong? If you didn't, it is a famous tangerine from Jeju Island! Thanks to it's interesting shape, SeungKwan was chosen for his upbeat and fresh image.
#2 Gold Kiwi- NU'EST's MinHyun
Gold kiwi is especially good for your skin as it provides nutrients for smooth and clear skin. MinHyun is noted by many fans for his clean and clear skin, hence chosen as an icon of gold kiwi.
#3 Strawberry- EXO's BaekHyun 
Famous for his 'puppy' look, BaekHyun was also pointed out by his fans for his strawberry image too! He looks fresh and adorable with slight hint of pink blush on his face.
#4 Peach- Im SiWan
One nutritional value of peach is that it can help to improve the health of your heart! With that being said, some are saying seeing Im SiWan can also help to do the same. Now that he has returned after the completion of his military, many are excited for his next new project!
#5 Cherry- Park JiHoon
Somehow cherry reminds people of the trait cutey-sexy and Park JiHoon was chosen for that look. He became famous for his adorable wink and after seeing his solo debut, some felt that he has a sexy side too!
#6 Pineapple- BTS's V
Somehow pineapple 'sticks out' from the ground on places where nobody expects and that was also why V was chosen. Thanks to his 4D personality, no one knows when he would say something random and what to expect next!
#7 Grape- Block B's P.O
A grape also gives off an adorable vibe! Through P.O's recent appearance on various variety show, he had gained a lot of liking from the public! They found him endearing and reminded them of a grape.
#8 Unripe apple- NU'EST's JR
An unripe apple may not be a bad thing as it is used to describe someone who is filled with vitality and energy! That is absolutely true for NU'EST's very own leader, JR! Fans have seen endless charms and love it whenever he does something funny with the rest of the members!
Read More : Top 5 Face Genius Among New Generation Male Idols Picked By Current Idols