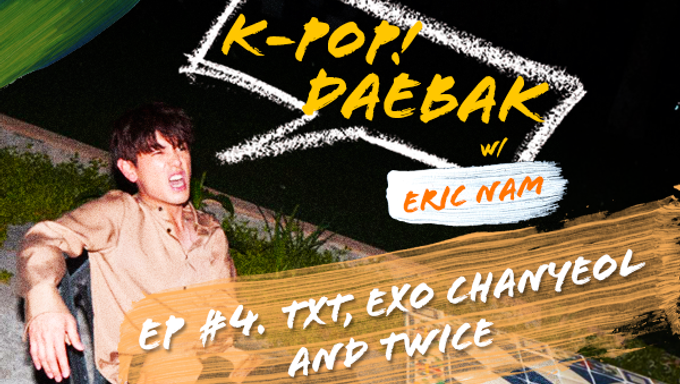 "Welcome to K-Pop Daebak, week FOUR~(not three~)" Eric opens the show by thanking the listeners and fans as K-Pop Daebak became NUMBER ONE podcast show in Korea overall, and No.1 music podcast in U.S Australia, Indonesia, Switzerland and more(Beats NPR). Keep up the great work Eric and K-Pop Daebak team!
With that, let's start Kpopmap's recap for this week of K-Pop Daebak w/ Eric Nam! First up is TXT  with their single, 'Cat and Dog'. The song, Eric explains that the music video for this song is aesthetically similar to 'CROWN' and there are more EDM sound and rap compared to their debut single.
Eric points out the rareness of a group promoting two songs from one album since the majority of TV shows tends to not allow an artist to promote multiple songs off of one album.
As Eric writes and works with numerous artists, he shared an episode where he had an involvement in TXT's debut single, 'CROWN' which later on changed a lot compared to when he first heard.
Eric also wanted to clear out about how him mentioning that he was working a song with a member from BTS (Episode 1) does not mean there will be a collaboration song release. Technically it is a collaboration but as in working together to make a song in general such as writing lyrics, melody and so forth. He added that it would be great if the song is released but there's always a possibility that it might not.
Next up is a surprise release by EXO  ChanYeol 's 'SSFW(Spring Summer Fall Winter)'. Eric said he was pleasantly surprised about this release, as ChanYeol is more known and is a main rapper in the group. This release is a part of "SM Station", a gateway of putting out interesting songs that aren't necessarily connected to the group's theme or color, to diversify SM artist's solo activities without it being a completely solo project. The song Eric released with Red Velvet  Wendy , 'Spring Love' was also part of SM Station.
Thirdly is TWICE 's latest release, 'Fancy'! With a brief intro of the group, Eric points out the major change of the group's song. In the past, as many of you know, TWICE had cuter songs and this time TWICE took a lot sexier and mature approach, reminded Eric of 'Mr.TAXI' by SNSD.
Eric also goes over amazing achievements the group has made since their debut back in 2015(the group was formed through a TV show called 'SIXTEEN') making them one of the major girl group's in the K-Pop industry.
After covering major topics for this week, Eric introduced the listeners some of the other music as well!
First, it is the R&B singer, "Babylon" '너의 두 눈 속 빛나는 달' who had is highly respected in the indie scene in Korea and have collaborated with other musicians including ChungHa, Verbal Jint and more.
Another recommendation is GOT7  Jackson Wang 's solo release, 'Oxygen'. Being a close friend with him, Eric said he wants to put Jackson in the show and abuse him with questions!
In the last segment, it is Eric's rambling time! (SO FUN). From him sharing the incident of losing the recordings of the podcast and to struggles between his brother Brian with doing chores in the household! It's great but I'd rather want the readers to experience it through the actual podcast because it's hilarious.
If you want to hear more, go check episode 4 of K-Pop Daebak w/ Eric Nam on your podcast providers or you can listen to them below! Stay great and I'll see you in the next episode!
Apple Podcast: K-pop Daebak w/ Eric Nam Ep. #4: TXT, EXO ChanYeol and Twice
Official Website: K-Pop Daebak w/ Eric Nam
Read More : K-Pop Daebak w/ Eric Nam: "Could it be VOTH?" Episode 3 STRAY KIDS, IZ*ONE and SUPER JUNIOR D&E Recap