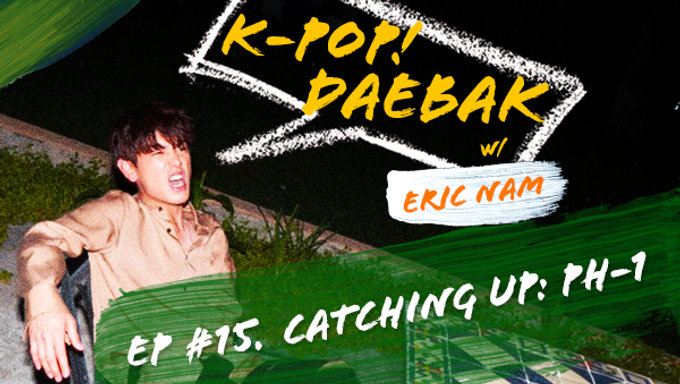 Today's episode of Daebak show is a special guest featured episode talking about music, life and more with the Hip Hop artist, pH-1.
For those of you who might not know who pH-1 is, here's a brief introduction of him. pH-1(Harry Park) is a Korean-American rapper who also went to college with Eric Nam. His first appearance in the Korean Hip Hop scene was from the Hip Hop survival show, "Show Me The Money 777". He was dropped out during semi-finals(competed with Nafla) but his talent was already well-proven and he signed with H1GHR Music where Jay Park resides as the CEO of the company.
Eric and pH-1 met up in a café in Seoul and started off with how pH-1 grew up as an immigrant in the states and shared how he became who he is today. pH-1 worked as a developer in the states and one day he woke up and saw Jay Park following him on Instagram. Out of awe, pH-1 commented that he thought it was a fake account but soon found out it was the real Jay Park! Making him more confused, pH-1 DM'ed Jay Park and asked why he started following him and Jay Park answered that He accidentally came across pH-1's music on YouTube and thought it was great and I guess that's where it all started!
Moving forward, Eric asked how the transition from growing up in America to living in Korea has been like. pH-1 answered that he is living the dream since he's doing what he loves. He also added that everything is so convenient in Korea. However, he also shared the cultural struggles that he experiences in Korea including, public views towards the artist being a lot harsher compared to America and the substantiality of following the trend which is set by the majority, whereas us is more individualistic.
Eric followed up and asked whether the cultural struggle has affected pH-1's music as well? pH-1 shared his philosophy in music-making and answered that he tries not to affect as much but still he thinks about it and put deep thoughts on who his music is targeting for.
pH-1, as mentioned above, is currently in H1GHR Music and he says that every artist in the label inspires each other, works with each other, but everybody is so busy and hardworking, that it is hard to hang out together. Among the company, he added that Mokyo who is also a singer/producer is the closest. Mokyo had also produced almost all of pH-1's tracks.
pH-1's very first full album, "Halo" was recently released and pH-1 talked about how he wanted to represent the type of music he does to the listeners. He mentioned that one of his favorite song from the album is "Malibu" which is one of his double titles for this album.
For future endeavors, pH-1 said that he will be having a concert in Korea, and Europe tour as well. So if you are interested, keep your hopes high because he might be visiting your town!
As a final segment of the interview, Eric asked what pH-1's definition of success is and whether he is currently happy. To that, pH-1 answered that he is. He said he doesn't consider to be "made it" in the industry yet but his definition of success is to support oneself and the loved ones without support, and above all, by doing something he loves.
With that, Eric wrapped the interview by asking several flash questions and as always, there were a lot of insightful moments from the show in which hasn't been covered. So if you want to hear more, go check episode 15 of K-Pop Daebak w/ Eric Nam on your podcast providers or you WATCH them below!
Read More : Who Recently Released a Song Produced By BTS Suga? : K-Pop Daebak w/ Eric Nam: Episode 14 Ailee, EXO's Baekhyun, Heize, and Melomance Recap