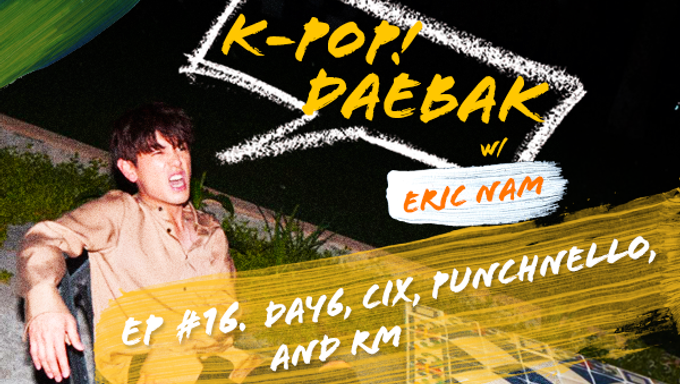 Hello, Daebak show lovers and new listeners, today we are back to the usual format of the show where Eric introduces new K-Pop music to the world so let's get right to it!
First featured artist is the K-Pop boy band, DAY6  with "Time of our life" (Ablum, "Book of us: Gravity")
Eric explains that this is their 5th EP their lyrics and sound is supposed to capture romanticizing the youth, with super high energy and giving you just being ALIVE kind of vibe. For the M/V, Eric comments that it was colorfully well done, very pretty to look at. Just pleasant to watch in general.
DAY6 will be having their second world tour this year starting in August. If you live around the city or planning on going to their show, check the schedule here!
According to Eric, one of DAY6's member Jae  is going be in the Daebak show in the near future! I guess it will be one of those catching up series and it will provide us with more details about the group and their music!
In addition, Eric mentioned a song that he wrote with Young K . There are no details revealed but apparently, it is a duet song and a bomb song. "Everyone will be crying, balling your eyes off," Eric said.
However, it has not yet revealed WHEN it will be released.
Another interesting fact was revealed during the show, and it is quite shocking! I'm not sure if the fans even knew this but Eric actually cannot play the guitar!! To me, this was the biggest reveal I heard this year! Somehow, I always assumed that he knew how to play. If you want to know more, go listen/watch how this surprising news was revealed in the show!
Up next it's the new boy group, CIX  with "Movie Star". The group debuted just a couple of weeks ago and is also known for having Bae JinYoung  who was the former member of Wanna One.
Eric mentions that a lot of the writers for this song worked with SM and that might be the reason why there is somewhat of a resemblance of SM vibe from the song.
Movie Star has seductive sound and lyrics. Eric swiftly looks into the lyrics to know what the song is about. He summarizes of what it narrates and does such a great job that he contemplates whether he should become a translator for international matchmaking for Koreans as a side job.
After watching the music video, Eric comments that they are very talented and he sees CIX as becoming one of the next big thing in the K-Pop industry amongst others including TXT, ATEEZ and such.
Moving on, the third feature for this episode was PUNCHNELLO and his latest release, "23" featuring the amazingly talented Sam Kim. For those who aren't aware of this artist, PUNCHNELLO is a 23-year-old Korean rapper who appeared in Show Me The Money a few years ago!
After listening, Eric comments that although he is a young talent, he is a great one and his life story is well projected into his music.
Eric lastly does a little plug for his friend pH-1 and his new song, "BOOL (featuring Beenzino). Soon after, the show gets interrupted with another clip. 'What's going on~?' well, it's because they've inserted, (and obviously had to) to tell the listeners that Lil Nas-X just(at that time) dropped a remix version of "Old Town Road" featuring RM of BTS ! (aka Seoul Town Road Remix). You can probably hear his excitement about this news as he repeats, "WHAAATT??!!".
With that, Eric wraps the show by sharing his plans in the future and arguing about which is better, oak milk or almond milk. Now the show is being serviced both Podcast and a video of the recording on YouTube so if you want to hear more, go check episode 16 of K-Pop Daebak w/ Eric Nam on your podcast providers or WATCH them below!
Apple Podcast: K-pop Daebak w/ Eric Nam : EP 16 DAY6, CIX, PUNCHNELLO, and RM
Official Website: K-Pop Daebak w/ Eric Nam
Read More : K-Pop Daebak w/ Eric Nam: Episode 15 Catching up: pH-1(Harry Park) Recap