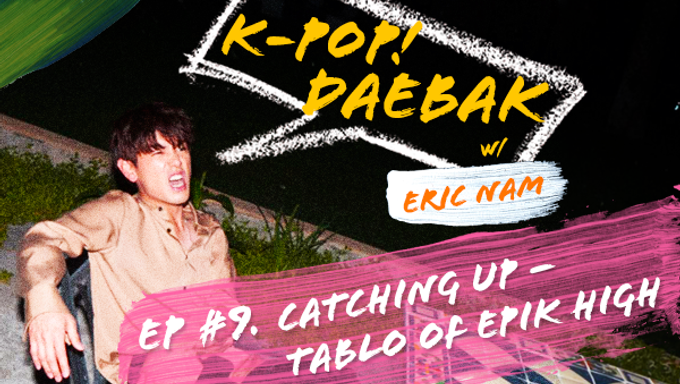 This is a special episode on K-Pop Daebak w/ Eric Nam as it only features one artist and guess what? It's none other than the legendary Tablo of Epik High!
So sit back and enjoy the show! However, if you want to know briefly what was covered or you want to go over some amazing moments in the show after listening to it, well look no further, Kpopmap has got you covered!
The show starts off by Eric introducing, greeting and honoring the guest, Tablo. As Eric immediately revealed Tablo's real name which he forbids to be called(it starts with D and rhymes with Ariel and comes from the Bible), Tablo shared the origins of how his older brother named his name (that starts with D and rhymes with Ariel and comes from the Bible) in which he personally wanted to use the name 'Bruce'(his surname is Lee).
After saying that he might've been dead by now it had gone with the name, 'Bruce', Eric asked how Tablo their group name became, 'Epik High'(Not from the bible though).
How did the name Epik High come together? This week's episode with Tablo (@blobyblo) is available everywhere! #tablo #epikhigh #ericnam #daebakshow #에픽하이 #에릭남 pic.twitter.com/RR8id6FM90

— K-Pop Daebak w/ Eric Nam (@daebakshow) June 7, 2019
Tablo points out how the show is being recorded so early in the day and mentioned Eric's short or maybe long shorts and his thighs and says maybe he's thinking too much now about Eric's shorts. With that, Eric asked about Epik High's recent tours that consist total of 25 shows(18 shows in N.A and 7 Shows in Europe) in the span of only a few weeks.
During N.A tours, the group toured by bus and Tablo mentions how he never knew that you're not allowed to use the loo for number two and made him not eat dinner because he did not want to get 'the signal' while they're in the move and also shared some hilarious episode related to this, saying that he risked his life for number two.
Continuing the talks about the tour, Eric asked Tablo which city was his favorite and somehow, this conversation took a slight turn which led to slashing Eddie(Eric's brother/Founder of EN Management/Epik High's tour manager).
According to Eric, Eddie is the parent's favorite kid. He is most loved amongst the three brothers and adds that he uses this advantage to his favor, plus, he knows how to be loved.
With Eddie's ability and confidence, Tablo says that he is the perfect agent/manager and refers him to as the "Asian Arie Gold"(#HBO_Entourage).
Moving on, Tablo updates on what's next for Epik High this year. The group is planning a concert in Hong Kong and Taipei in June and also a big show in Seoul which is an annual concert they put out in August. With the group's intense previous tour, Tablo said that they will be taking it easy for about 3 weeks prior to the next concert.
Eric and Tablo also talk about Epik High's latest album, "Sleepless in ______". Tablo explains the inspiration behind this album, saying "sleeplessness is something that is common to everyone and also an amazing topic to discuss. It has both positive and negative aspects to it. Many people are sleepless because they have ambition and dream, at the same time there are people that cannot sleep because of nightmares, and thought dichotomy was very interesting to me. Also, it seemed very similar to love and thought that there should be one that is dedicated to sleeplessness."
This album is also the first album as an independent release. Tablo said that it was extremely intimidating since it can either be very good or very bad. However, as many of you know, there are only positive feedback for this and had outperformed compared to their previous album and Tablo added that they are very thankful.
Two gentlemen collaborated in the past with the song, 'Cave Me In' which also features a famous R&B singer, "Gallant". This led them to talk about how two of them met for the first time.
For readers and listeners out there, did you know Tablo was in a famous Hollywood movie? Not just that, he worked with the legendary Robin Williams' in a movie called "August Rush"! In this part, Tablo shares how the whole filming went and the whole episode about it! This part is also hilarious, you MUST listen to it. Briefly, Tablo tells you how he was filming with a bunch of children and himself was also cast as part of those children.
Eric also asks 'go-to' songs for various occasions and Tablo answered any song with 'DJ KHALED!' in it except for when he needs a really good cry, he recommended "At 17" by Janis Ian. When Tablo wants to be inspired, he said, "Runaway" by Eric Nam and not Kanye West.
In the last segment, Eddie joins the two and rambles about things that happened during the tour from Eddie's perspective including the soccer game they played and how he dominated DJ Twukutz even when he was half asleep.
The show wraps with Tablo and Eric sharing great things about Eddie and Eddie responds by saying that he would love to stick together until death do us part.
This episode personally was filled with presents. Not only were there so many hilarious moments where I laughed so hard that I had to cover my mouth during my commute but there was numerous information that you will never be able to know in regular media.
This episode was filmed as well so I'm leaving the full episode below for you Kpopmappers! I highly recommend everyone to listen to this episode!!
Apple Podcast: K-pop Daebak w/ Eric Nam Ep. #9: Catching Up - Tablo of Epik High
Official Website: K-Pop Daebak w/ Eric Nam
Read More : K-Pop Daebak w/ Eric Nam: "20,000 followers and Brian dances" Episode 5 PARK BOM, GRAY and NU'EST Recap