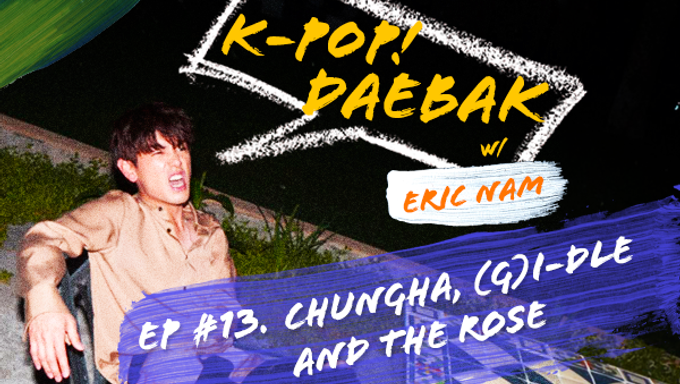 After his Europe tour, Eric came back to his hometown, Atlanta USA! This episode is recorded in the backyard of Eric's parent's place with his brother Brian! (you can hear birds chirping!) and Eric mentions that he is preparing for a new album and is focusing on that in his hometown.
With some of their hilarious rambling which includes great news for Eric's family(congratulations!), here are some of the things we wanted to cover from this week's daebak's show.
The first song is ChungHa 's "Snapping".
Soon as the release, Eric mentions that her song has been on top of the charts for quite a while now. He also mentions the first encounters with the singer, saying that he freaked out when she spoke English(ChungHa lived in Texas) because he had no idea until then!
On a shared note, ChungHa said that she was able to put more of her music when preparing for this album, which Eric mentions that it's a great thing to do since that's what musicians must do to produce better music.
Next up is (G)I-DLE  and their latest release, "Uh-Oh".
As many of the global fans know, (G)I-dle's song was featured on a famous online game and Eric was also one of them that found out about the group!
After watching their M/V, Eric points out that the song is an edgy pop and which reminded him of past girl crush group, '4Minute' and '2NE1' mixed together, a bit of a badass kind of feel to their song.
While talking about the group's name, Eric mentions that "I-dle" reminded him of a "griddle" which led his mind towards "Waffle House"(A famous waffle restaurant mostly in the southern side of the states). Which is making myself hungry as well….
Anyhow, next segment is Eric's Pick for the week, and this week it's four men band called 'The Rose' and their song, "She's in the rain".
After briefly introducing the members, Eric comments that he feels that the group is very talented and really underrated, adding that he loves the group's vocalist, WooSung's voice.
Eric continues by saying that his singing style is very unique that Eric thinks not a lot of people can imitate or do!
After going over all the prepared segments, Eric and Brian rambles for the rest of the show and it's about how his Europe tour was like!! So don't miss it!
Like always, there are a bunch of great moments that aren't covered here, so if you want to hear more, go check episode 13 of K-Pop Daebak w/ Eric Nam on your podcast providers or you can listen to them below!
Apple Podcast: K-pop Daebak w/ Eric Nam Ep. #13: CHUNGHA, (G)I-DLE and THE ROSE
Official Website: K-Pop Daebak w/ Eric Nam
Read More : K-Pop Daebak w/ Eric Nam: "Wingardium Leviosa" Episode 12 RED VELVET, STRAY KIDS, and SHINHWA + Eric's Thoughts on BTS recent OST Recap