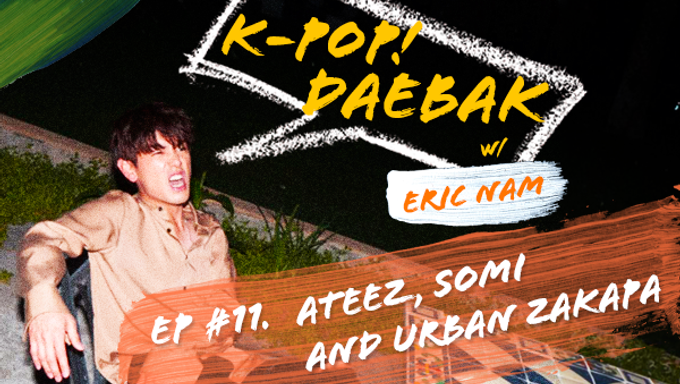 Welcome back to Kpopmap's K-Pop Daebakshow recap! Eric recorded this episode in Paris as part of his Europe tour! As the upload of the episode was a bit delayed, Eric explains that he was sick and everything was such a mess! BUT the show must go on!
Eric also adds that he's been loving every moment of the tour and also advises the listeners, if you were to go to a show, you must always be hydrated for your health!!
Apparently, Eric previously recorded an interview with a Korean singer-songwriter, 'Sam Kim'. Unfortunately, there was a huge flood that happened in the studio that was keeping the recordings for the podcast and it's now gone…It must've been a great show…:( (Hopefully there be a next!).
With that, it's the first artist, ATEEZ  with "Wave" and "Illusion".
After a brief introduction to the group, Eric adds he was very impressed by the group's talent and immediately caught his eyes! Also commented that whenever he listens to Spotify and hears a good song, he ends up seeing ATEEZ on the screen. Eric complements the group and said ATEEZ might be one of the next big group that will succeed in the global K-Pop market!
He continued that, as an artist in Korea, he sees countless groups that debuts and vanishes without reaching to the next level but ATEEZ might be different.
Next up is the former member of I.O.I , Jeon SoMi  with her debut title, "BIRTHDAY"!
Eric explains that the song has a lot of swag and attitude to it which quite well shows SOMI's charisma and character.
The song is about self-love and self-empowerment and Eric comments that recently, there are a lot of songs with a similar message to it such as ITZY's "Dalla Dalla" and CLC's "ME" and also adds that this is a good phenomenon as the type of songs are getting more diverse.
Eric also shared when he first met SOMI which was when he and SOMI collaborated together with "You Who?" back in 2017. Eric described her as a bright, super cool and charismatic person.
He also added that SOMI was really looking forward to this debut and is very happy for her!
The last artist for this episode is Eric's personal recommendation and it is URBAN ZAKAPA with "Seoul night" featuring the utmost talented rapper in Korea, Beenzino!
For those of you who are not aware of this artist, they are a Korean R&B trio which debuted back in 2009.
According to Eric, they are one of his best friends in Korea and he truly loves their music and their personality.
When he first came to Korea, Eric said it was really hard for him to adjust to a new environment and during those days, URBAN ZAKAPA helped him through tough times, giving him love and support.
Eric also talks about the M/V, saying that it is actually a recording of their live performance and it might sound a bit different from regular sounds you hear from music videos.
Eric additionally recommends another one of URBAN ZAKAPA's songs from their early days called "Coffee", (Readers, if you want different types of Korean music, this might be a great start!)
Like always, there are a bunch of great moments that aren't covered here, so if you want to hear more, go check episode 11 of K-Pop Daebak w/ Eric Nam on your podcast providers or you can listen to them below!
Apple Podcast: K-pop Daebak w/ Eric Nam Ep. #11: ATEEZ, SOMI and URBAN ZAKAPA + Reacting to Fan
Official Website: K-Pop Daebak w/ Eric Nam
Read More : K-Pop Daebak w/ Eric Nam: "Eric Nam is Awesome" Episode 9: Catching Up – Tablo of Epik High