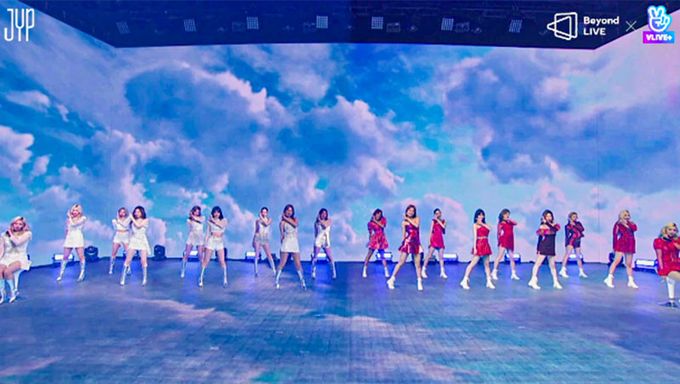 As the music industry continues to innovate within the world of live touring, international K-Pop phenomenon and Republic Records recording artists, TWICE, hosted a powerhouse, online concert this past weekend, loaded with full on-stage production, elaborate costume changes, and state-of-the-art visuals to match. Titled "Beyond LIVE - TWICE: World in A Day," the 90-minute set was shot live, and featured some of the group's biggest hits, as well as new music from their latest Billboard chart-topping album MORE & MORE.
Marking the group's first official concert since their 2019 World Tour, TWICELIGHTS, the live-streamed "World in A Day" event that had viewers from 126+ countries, incorporated a unique blend of international themes, an ode to their fans worldwide. From Asia to North America, each set-up took inspiration from their fans' various regions, across the globe, all of which have become near and dear to the group. TWICE introduced another incredible performance reflecting their desire to visit their fans, often referred to as ONCE, all around the world, reimagining each stage as if they were currently performing in a different city, on a World Tour.
https://youtu.be/Kt3o-wmjwU4
Beyond LIVE is an online concert platform, where fans can join from all over the globe without any limitation of time and space. The show features digital interaction and grand artwork, where extraordinary technology has been integrated. From the show's elaborate visuals, to the styling and song choices, "TWICE: World in A Day," is a pure representation of the special and unique bond TWICE shares with their fans ONCE.
The group is set to release an English version of their latest single "MORE & MORE" later this month via Republic Records. The track made its first appearance on last June's MORE & MORE, the group's ninth mini-album, which made a strong debut across multiple charts in its first week of release, including Billboard's World Albums chart where it landed at #2, Billboard's Heatseekers Albums chart where it hit at #3 – a new chart peak for the group, and their first ever entry onto the highly coveted Billboard 200 and Artist 100 charts.
"We are looking forward the English release of 'MORE & MORE' later this month," said TWICE in a group statement. "We decided to record this version as a gift to ONCE around the world, and we hope that they enjoy it!"
Since TWICE was formed in 2015, the group have become globally renowned superstars, rapidly taking the U.S. by storm. Having graced Allure Magazine's May 2020 cover, the group have been praised by the likes of TIME Magazine, Billboard, Forbes, Interview Magazine, Teen Vogue, Elle and BuzzFeed to name a few. In 2019, the group successfully completed their World Tour, TWICELIGHTS, which included sold-out shows at The Forum in Los Angeles, the Prudential Center in Newark, where they performed in front of 11,000 fans, and a show at the Wintrust Arena in Chicago.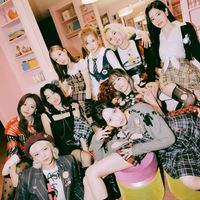 Became a fan of TWICE
You can now view more their stories