After becoming the hottest K-Pop rookie sensation in the U.S., K.A.R.D sat down for an interview about their overwhelming success abroad.
DSP's rookie group, K.A.R.D (BM, J.Seph, SoMin, JiWoo) just made a comeback last week with their 2nd single, "Don't Recall". The song received a great amount of love from international fans as it went on to chart on iTune's main Song Chart, place 1st on iTune's K-Pop Chart, 22nd on the UK Pop Chart, 34th on Brazil's Song Chart and more!
The fact that the group debuted only a couple of months ago, and is an unusual co-ed group, K.A.R.D's secret to success has everyone baffled. Following the group's impressive 8 million views for their debut track, "Oh NaNa", their "Don't Recall" is hot on its trail with almost 4.5 million views in just under a few days! To better understand the group's reaction to the tremendous amount of love from abroad, each member answered a series of questions related to their possible promotions outside of Korea.
When asked about their feelings on the responses from abroad, all of the members expressed their shock and gratefulness for their fans. J.Seph responded, "I want to hug every one of our fans." BM continued, "I got a call from my friends back in the States saying how they saw our 'Don't Recall' music video playing at a restaurant. It's just amazing."
The four members cited their group's songs, choice of genre, and chemistry as their secrets to success. When asked whether they had any plans to promote abroad, SoMin answered, "We don't know if we'll be promoting abroad, but if we can, I'd really love to try! I want to meet our fans up close." J.Seph also commented, "I want to see our foreign fans very very often. Wherever they may be!"
Since it's only been a couple of months since their debut, it appears that K.A.R.D has no set plans to promote abroad, but inferring from their reactions to the overwhelming love, we don't doubt that we'll be seeing K.A.R.D world tours sometime in the near future!
Must Read : MV )) K.A.R.D – Don't Recall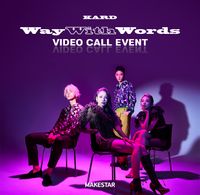 Became a fan of KARD
You can now view more their stories