Did coad team's attraction work? KARD's popularity goes higher extremely fast.
KARD, which consists of BM, J.seph, SoMin and JiWoo is having the hottest and the busiest days recently. It's only 1 week after KARD debuted, however, they spent the most fanciest week so far. KARD released the debut album "Hola Hola" on July 19th, and got tremendous attentions from global fans with their song 'Hola Hola'. 
KARD's debut songs are having good grades on many charts in Korea and also other countries around the world. Additionally, right after broadcasting their first debut performance, KARD got the most search word list on many search engine websites. All these are happening even though they are only rookie group that just debuted a week ago. Besides, from the debut project song 'Oh NaNa' to 'Don't Recall' and 'RUMOR', their music videos on Youtube hits over ten million views very fast. 
Must Read : A Brazilian MC Makes Chinky Eyes In The Presence Of KARD Members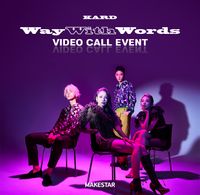 Became a fan of KARD
You can now view more their stories