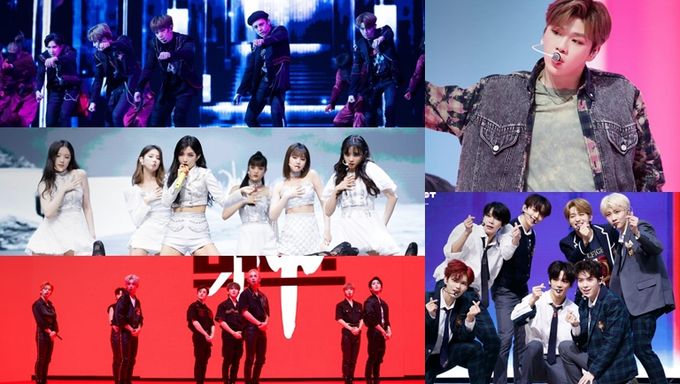 We are at the middle of "KCON:TACT 2020 SUMMER" and here to review on the 4th day of the week long K-Pop online event. If you have been missing out on the first 3 days, make sure to check out our reviews below.
If you are curious to check out the lineup for the rest of the week, you can take a look here.
The 3 rappers from Stray Kidsor also known as 3racha, had opened up the concert of Day 4.
Dressed in similar black themed outfits, the three of them knew how to dominate and fill up the empty stage with their swag and stage presence. Fans of Stray Kids, STAY, would notice how they have been the opening act consecutively for the past few years in "KCON 2018 New York", "KCON 2019 Los Angeles" and "KCON 2019 Thailand".
It looks like once again, they did not disappoint.
During their Meet and Greet session, Stray Kids introduced their latest 1st full length album "GO生". It is their 1st full length album 2 years after their debut.
Stray Kids was also touched to receive such amount of love and support after taking a look at the amount of fans who had tuned in through the screens behind them. They continued by sharing how they wanted to repay the fans and hence, made sure to put in even more effort in perfecting this album.
Members ChangBin and Han then participated in a Korean tongue twister, showing off how amazing they are in rapping and speaking difficult words at the same time.
On the other than, Lee Know also proved his amazing strength after performing a total of 10 squats while lifting ChangBin and I.N at different timings.
They had performed to their latest and new released title track 'God's Menu'. As the song was 'freshly' released not long ago, their fans, STAY, were extremely excited to see how they were able to perform to the track on "KCON:TACT 2020 SUMMER".
Aside from that, it looks like they are causing STAY to fall harder than before as they had also performed to 2 B-side tracks from their 1st full length album 'Top' and 'Mixtape: On Track'. The atmosphere of both songs were on the extreme end as 'Top' was fierce and powerful but for 'Mixtape: On Track', they were oozing with boyfriend vibes thanks to their sweet and lovely voices.
They took a break with adorable photo time session with STAY and did not fail to show off each of their individuality and cute poses. In the end, they closed up their section with a fierce performance of 'Double Knot' and 'Miroh'.
VERIVERYproved to their fans that they are maturing into young adults when they had began with a performance of 'Lay back'.
They continued by singing 'Tag Tag Tag' as well as 'With Us' for the very first time. It was said that the latter song was not performed anywhere else but the first time on "KCON:TACT 2020 SUMMER".
Those who had watched the stage could not help but feel impressed by how well they are improving.
K-Pop lovers would recall that VERIVERY had made their appearance on Mnet "Road To Kingdom". Through the survival program, they were able to prove to many that they are a group with potential which did not get the opportunity to shine as they deserve.
'Beautiful-X' is the song which they had performed on "Road To Kingdom" and as chosen by their fans, it was their favorite stage of VERIVERY during the survival program. Of course, the boys later also performed to 'Beautiful-X' to thank their fans for the love and continuous support which they are receiving.
The Meet And Greet session for VERIVERY appeared to be slightly shorter compared to others but all of them still had a great time communicating to the fans who had tuned in just for them.
(G)I-DLEis the only girl group invited on Day 4 and the 6 girls definitely knew how to turn the heat up with their performances.
They began with their latest title track 'Oh my God' and proved why they are picked by many as the next rising girl group.
After greeting their fans and interacting with them one a 1:1 call, (G)I-DLE performed to their debut track 'Latata' with several dancers. Perhaps it was their debut song, those who were watching the live broadcast could not help but recall on how much they had grown since their debut.
Moving on, they also performed to 'Luv U' which is their B-side track.
Their fans, Neverland, also chose their most favorite stage from their appearance on Mnet "Queendom" by the choices of majority, it was none other than the stage 'Lion'.
With that being said, they did not let them down by performing 'Lion' as their last stage.
The contrast of their stage outfits with the dancers' and lighting had allowed their performance to look more spectacular than before.
Give it up for A.C.Eas they had opened up their stage with an special intro stage and performed to 'Undercover'.
They also performed for the first time to 'Stand by you'. The music video 'Stand by you' is released just a day ago and if you have yet to check it out, you can do so below.
At the Meet and Greet session, A.C.E talked about the time when they were really active in busking in both Korea as well as overseas. They shared that when they were overseas, it was really memorable when they had busked in the rain with their fans, CHOICE, watching them. Despite the rain, they felt really happy and found that day really meaningful as an article about them was also published on TIME magazine on the same day.
On a lighter note, member ByeongKwan was picked as the member who is currently the most into skin care. It was also revealed that he spends at least 30 minutes in front of the mirror after showering to apply his skin care products. While the members might be teasing him, he rebuked by saying that he has sensitive and acne prone skin. As a result, he is interested in learning more about skin care and wants to take good care of his skin.
Jun was picked as the member with the most candid photos especially when they had just debuted. The other members shared that most of the photos came from the reporters' photos which he had either closed his eyes or had an odd expression. Needless to say, all of them laughed it off and ended the topic on a light note.
Seeing the amount of love and support which they had received from CHOICE all over the world, A.C.E was overwhelmed and could not wait for the time to be able to see each of them again.
As they were playing the 'DDR' game, A.C.E was also able to show off their perfect dance covers of other K-Pop groups such as EXO's 'Monster', BTS's 'Not Today' and MONSTA X's 'Follow'.
Being the only solo artist on Day 4, Kang Danielnailed the stage with his opening performance with 'Jealous'.
Later, he also sang 'Interview' as well as 'I Hope'.
He was able to serenade his fans, DANITY, with his charming smile and smooth dance moves.
They could not help but find themselves falling for him even more.
While taking a break, Kang Daniel also had a chance to chat with one lucky DANITY 1:1! She did not miss the opportunity to share how she became a fan and also expressed the love she has for the idol.
Finally, Kang Daniel ended his performance with a special fan featuring stage by performing to his latest title track '2U'.
Day 4 is definitely filled with fun and enjoyment and many are expecting more in the upcoming days! Are you excited too?