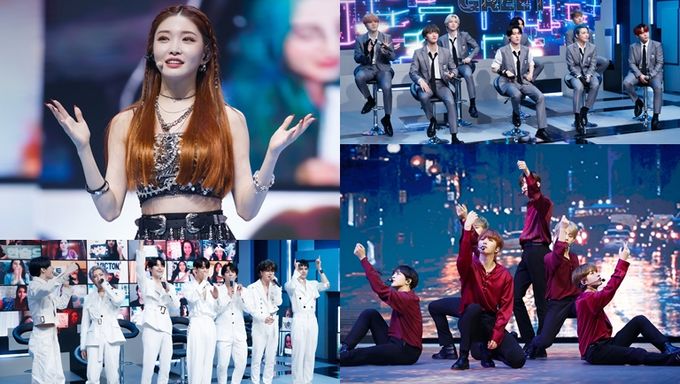 The last day of "KCON:TACT 2020 SUMMER" had ended with a 'bang' and K-Pop lovers are definitely going to miss the 7 days long K-Pop festival.
If you are already missing the previous 6 days, you can check out the previous days reviews (Day 1, Day 2, Day 3, Day 4, Day 5, Day 6).
The line up for Day 7 includes ATEEZ, VICTON, ChungHaand ONEUS.
ATEEZ had opened the last day with their special dance performance. It was powerful, spectacular, earning them lots of positive comments in the live chatting section.
With that being said, during their Meet and Greet session with Eric Nam, they shared that they really enjoyed opening the stage. They loved how the stage made use of special effects and it felt awesome to be able to perform in such huge stage once again.
The atmosphere was turned up when 8 boys then shared interesting facts about their members. HongJoong and SeongHwa were chosen as the members who take the most selfies.
JongHo was chosen as the one who plans the most. When the question about who communicates the best with their fans, ATINY, they decided to go with the answer that all of them are actually good at it.
Moving on to 'Drawing Dance Revolution' game, the members had to guess the dance by drawing in the 'air' with a special AR tool through a smart phone.
They were able to show off their creativity as well as their knowledge of dances.
In the end, they had successfully drawn the dances to Block B's 'Nanrina', ATEEZ's 'Wave', BLACKPINK's 'DDU DU DDU DU' and ITZY's 'WANNABE'.
That was the end of the Meet and Greet session but also just the start of their stages.
They had specially covered EXO's 'Growl', causing many long time K-Pop fans to reminisce on the song.
Continuing, they performed to 'Answer' before catching their breath and had a 1:1 video call with one lucky ATINY.
All of them had a great time showing off their charms, such as aegyo, causing some of the members to blush too.
Moving on, they performed to 'Wave' which is a track that many ATINY loves.
Thanks to the colour of their outfit as well as the special background stage set, they looked amazing with the contrast of white and blue. The boys continued to dominate the stage with their performances for 'Light' and a special stage for 'Say My Name' and 'Hala Hala'.
ATINY would know that member SeongHwa had a hip injury and so he did not perform. As for JongHo, he was sitting by the side of the stage during the performances due to his leg injury.
The members made sure that JongHo did not feel neglected and gathered around during the stages.
ATEEZ said goodbye to ATINY and wished that they could see them in real life as soon as possible.
At the next section, VICTON had appeared first for the Meet and Greet session.
Each of the member were asked a question and they had to choose the member which goes best as the answer. SeungWoo was asked which member was able to fall asleep the easiest and he went with HanSe.
Chan chose SeJun as the member which would favor dessert over an actual meal. As for SeungSik, he chose SuBin as the member which he would want to scout if he were to ever set up a company.
SeJun then later selected HanSe as the member who has been focusing on his health more recently. ByungChan picked Chan as the member who is always in the passenger seat of the car.
They had a hilarious time explaining why they had chosen each particular member and even the MC, Eric Nam was surprised at some of their explanation.
After which, they continued to the next session which they had to point out the charms which K-Pop fans would love in each of the member.
They ended up mentioning how SuBin is not only adorable but also has a sexy image. SuBin did a surprising 'sexy' dance which caused the rest of the members to tease how adorable he was. Later, VICTON also mentioned that SeJun is very good looking and has a lot of aegyo too.
After saying goodbye to their fans, ALICE, VICTON then headed for their live performances.
They had began their stage with a special introduction before performing to their latest single, 'Mayday'.
Thanks to their amazing facial expressions and performance, it appeared that during that time, the comment section from the viewers were flooding with compliments.
After which, they also had a 1:1 video call with a lucky ALICE from Japan.
The high tension continued when they had performed to 'Howling' as well as 'Time Of Sorrow'.
It was noted that it had been almost 2 years since they had performed to 'Time Of Sorrow' and ALICE is loving the 7-member stage performance.
Finally, they performed 'Petal' for the first time on "KCON:TACT 2020 SUMMER". The soothing and relaxing vibe of the song had also allowed ALICE to witness the love they have for each other.
ONEUS had begin their stage with 'A Song Written Easily' and they had stepped it up with their synchronized dance as well as amazing vocals.
They shared that since it was the last day of "KCON:TACT 2020 SUMMER", they promised and hoped that they would be able to hype up fans watching the live stream.
A short "TMI" game was carried out and member HwanWoong had shared that when he was much younger, he wanted to become an artist like Rain. With that being said, they also mentioned that they looked up to all of their seniors and how they are able to learn a lot of different things from them.
Continuing the performance, they sang 'Twilight' as well as 'Lit'.
After which, they had also performed to 'Come Back Home' which was previously seen in Mnet "Road To Kingdom". It was also said that it was the stage most well-liked by their fans, To Moon.
During the Meet and Greet session, the boys mentioned that while appearing on the survival program, they were able to gain a lot of experiences. When they had first began on the competition, their aim was to make it into the final live show.
They were really proud of them being able to make it into the final live show despite not being crowned as the winners.
KeonHee was later being surprised with a special birthday celebration since it was passed 12 AM KST during the live broadcast. The staff had surprised him with a special birthday cake and they also celebrated his birthday on the spot.
They then continued with an unique title match competition where member KeonHee had to defend his title as the best heart-maker with his hands. He showed off one of his unique heart which was made from using both of his arms.
In the end, member LeeDo was crowned as the member who had the most interesting and unique hearts made just by his fingers.
The game continued with the competition between who would be crowned as the new king of echo. Once again, KeonHee had to defend his title and ask the rest of the members to put their utmost effort.
The two members which did the best were Ravn and HwanWoong. In the end, KeonHee had decided to go with Ravn!
ONEUS later closed up the Meet and Greet with sweet messages to their fans.
Moving on, the only solo artist who was performing on the last day is none other than the summer Queen, ChungHa!
She had started with a lively stage with her B-side track 'Flourishing'.
The solo artist then continued with an amazing performance of 'Snapping'.
Moving on, she interacted with her fans, Byulharang, which could be seen on the amazing screen surrounding the stage. She also had a 1:1 video call with a lucky fan.
The fan had showed her love ChungHa and during the short conversation which they had, ChungHa was also very thankful for her support all along.
With that being said, she performed to her debut track 'Why Don't You Know?'. One reason why many K-Pop lovers are in love with ChungHa is also the fact that she is a great performer.
She knows how to enjoy on stage together with the dancers and make eye contact with the camera. Her facial expression is always on point, causing many to give her nothing but praises.
Aside from that, she also showed off her adorable sides when she performed to 'Love U', a summer song with cute dance steps.
Finally, closing up her performance, she performed to 'Chica', a song which empowers women.
ChungHa will be releasing her Maxi Single Album for her pre-release singles 'Stay Tonight' and 'PLAY' on July 6. Many of her fans could not wait for her return and hope that it is going to be more spectacular than before.
"KCON:TACT 2020 SUMMER" had ended successfully and it looked like K-Pop fans from all over the world were able to have a great time.
Share with us if you also enjoyed it too!