After 10 months since the last performance, Lovelyz came back with a new album" R U Ready", with a title song 'WOW'.
"R U Ready" is their 2nd official album, made with the collaboration of composer YoonSang and One Piece, a producing team. The song 'WOW' is quite different from the previous songs of Lovelyz, being more energetic, yet girlish. The vivid clothing and props well fitted the concept of the album "Retro" and drew eyes of the public.
Not only fans and critics but Lovelyz, themselves, also admitted of their change in style. The youngest, YeIn, was changed from just a cute girl's image to a young lady. JiSoo was got see-through bangs, which is the latest big hit in style, fitting her perfectly. Kei, with half tied hair, said that she practiced on her facial expression to look like a girl who fell deeply in love. MiJoo surprised her fans with blond hair, while Jin dyed in orange. Permed hair was also a new style shown by Lovelyz for SuJeong had a long perm and Baby Soul, had a short hair perm. JiAe described her style as being calm, however, she also was eye catching among the lively looks of others.
Critics says that the concept of Retro is new for Lovely, however, it fits them like a right sized shoes.
Must Read : MV )) Lovelyz – WoW!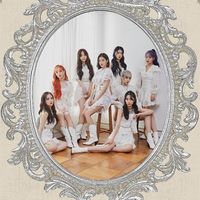 Became a fan of Lovelyz
You can now view more their stories