After ranking 23rd on Mnet's survival program Produce 48, Kim DoA has been keeping her self busy and preparing for her debut under her own agency.
Just recently, an interview with BNT International surfaced online, answering some questions that many fans have been wanting to know the answers to. As seen from Produce 48, her beauty still remains brighter than ever and she seemed full of determination to chase after her dreams of becoming a successful K-Pop idol.
BNT International: How do you feel about having an extraordinary appearance?
Kim DoA: Every time I look in to the mirror, I never really understood why people thought I was pretty. I'd walk in department stores and public places, and hear things like "Oh she looks like a doll" and other compliments. I just think to myself that I'm lucky that my parents blessed me with good genes and accept things the way they are.
BNT International: There have been rumors that debuting as a member of YBY might be a possibility, similar to how I.B.I and JBJ debuted. What are you thoughts on this?
Kim DoA: I personally don't see this happening because all of the other idol trainees rumored to debut as a member of YBY have their own agencies and future plans. But I'd like to have a chance to perform with some of the other idol trainees again if given the chance to.
BNT International: Do you intend to participate in other upcoming programs like Produce 48?
Kim DoA: At the moment, no. I don't think I will ever participate in another idol-related survival program ever again after Produce 48. I'd rather practice rapping and participate in Show Me The Money or High School Rapper *laughs*.
BNT International: How has Produce 48 affected your thoughts on becoming an idol?
Kim DoA: I think before, I used to think to myself "should I become an idol?" But after Produce 48, my thoughts have changed from "should I?" to "I should". Through the show, I've found new determination and purpose to become an idol.
Read More : How K-Pop Aesthetics Captivate Fans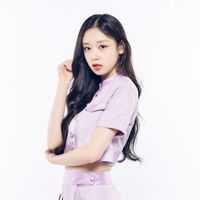 Became a fan of DoAh
You can now view more their stories