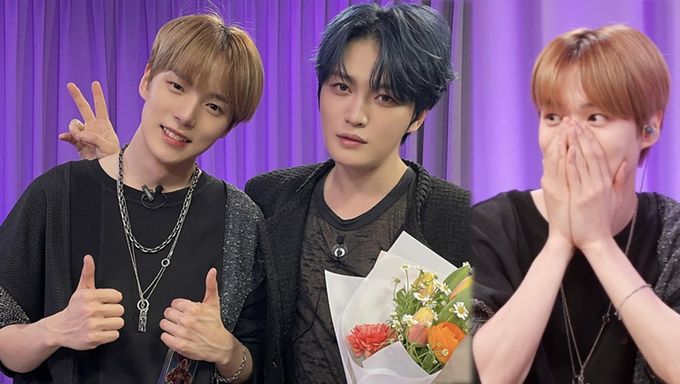 This episode of "Vogue Ship Show" will never be forgotten by MONSTA X's MinHyuk!
MinHyuk is the host of this "Naver Now" audio show. He is known to be a huge long-time fan of TVXQ and dreamed to be a singer when he was younger while watching the members especially JunSu and Kim JaeJoong.
After receiving JunSu on this show, he had Kim JaeJoong as a guest on March 31. Kim JaeJoong recently released the music video of the Japanese version of 'BREAKING DAWN' produced by HYDE and ranked 1st on Oricon Daily single ranking with it on March 30.
MinHyuk could not calm down as he was meeting for the first time Kim JaeJoong. His successful fan's life did not end here as Kim JaeJoong had prepared a special gift for him! He heard that MinHyuk was a big fan and gave him one of the necklaces he is seen wearing in the music video.
Under surprise and happiness, MinHyuk received the present. Kim JaeJoong even put the necklace on MinHyuk himself after he asked how to put it on. How sweet of him!
얘두라 어떠케.... 이민혁 완존 떨어.... pic.twitter.com/fhOMVW2Wr9

— 밤 (@mh_bomb) March 31, 2021
MinHyuk was very touched and thankful for his present! It was a thoughtful and lovable present from Kim JaeJoong
Were you also happy for MinHyuk to receive such a meaningful present from Kim JaeJoong whose he is a big fan of since a young age?