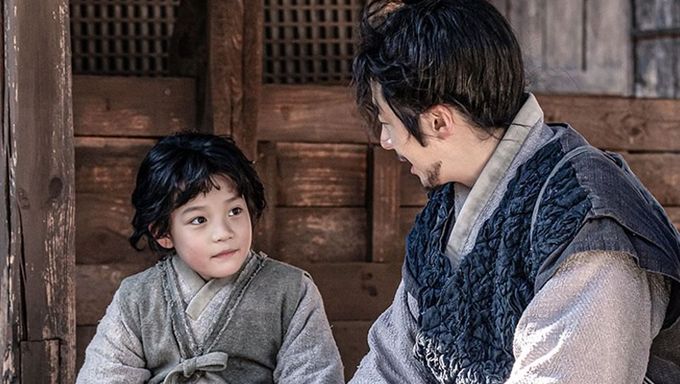 "He is stealing the show"! This is just how adorable Ko DongHa is in his role of Cha Dol in the historical drama "Bossam: Steal the Fate". The boy has been melting the hearts of viewers.
The drama started on May 1st with Jung IlWoo, Girls' Generation's (Kwon) YuRi, and Shin HyunSoo. It tells the story of a man who lives by kidnapping widows for remarriage whose life turned upside down when he kidnapped a princess by mistake. The ratings of the drama are significantly increasing and its start even broke the record of the best MBN premiere rating. The drama might break the record of the highest rating of MBN held by "Graceful Family" if it continues this way.
This article contains light spoilers about the first three episodes.
In the show, actor Ko DongHa is acting as the 7-year-old son of Ba Woo (Jung IlWoo) named Cha Dol. Ba Woo is a man who tends to be harsh in his words and action even if his heart is not made of ice. Cha Dol is the first one to have noticed his father's mistake of kidnapping a princess and not a noble lady as he was planning on.
Cha Dol is ready to let his father know when to cut on his "useless talking" and act the proper way. He gives him a piece of his mind anytime he thinks it is needed.
Moreover, the princess (YuRi) has found much comfort in Cha Dol and he helps her go along with his father who is "helpless" according to him. But that is not all, he protects her and calls her "mom" making viewers send on his side.
Viewers can not help but fall for the boy with his adorable charms and the way he is thinking. His character is much mature and smart for his age and he is also funny.
View this post on Instagram
View this post on Instagram
Ko DongHa is a good actor and perfectly acts the young boy. The actor was born in 2012 and has acted in dramas such as "Missing: The Other Side", "The Last Empress", "A Poem a Day", and "Rude Miss YoungAe". You can follow him on Instagram below at @dongha_ko.
View this post on Instagram
Do you also love Cha Dol?