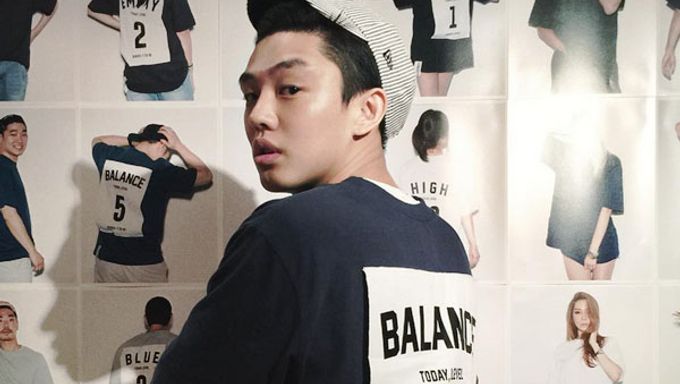 SBS's 25th anniversary drama, "Six Flying Dragons"starring Yoo Ah-in, Kim Myung-min and Shin Se-kyung will premiere soon. It will tell the story of six ambitious and successful characters including Prince Lee Bang Won, who helped his father King Taejo establish the foundation of the generation. 
Famous actor Yoo Ah In have been accused of being gay. As the historical drama approached, a rumor, that has swirled around him, resurfaces again in the showbiz. Actually, the rumors about his sexuality have regularly appeared on gossip site for years because he was witnessed drinking at a gay bar in Itaewon several times. When the rumors get worse, Yoo Ah In has broken his silence to offer his side of the rumor through an interview. 
Photo by. His IG @Hongsik 
When he was asked about his sexuality during the interview, he responded as below :
[Cine21] Interview Yoo Ah In about his photo in a cafe ; some people think it is gay cafe.
Q. This may be an embarrassing question, but a picture of you sitting on a purple sofa and applying lip balm made its rounds on the internet and was used as "evidence" that Yoo Ah In is gay. Netizens framed all kinds of guesses and comments as if they were testimonials and spread them around, but you wrote underneath the photo, 'Try what you will.'
A. I wanted to make them ashamed of themselves. The actual person behind the distorted and misrepresented rumors going around is like this. Play with it if you want. It was that kind of feeling. I was hurt; I was frustrated. Not because they were talking about something that embarrassed me, but because I didn't like that I had become a toy for anyone. I could have just deleted the photo to stop the rumors if I didn't want them to spread, but I wanted them to look back on this after some time had passed and be ashamed of themselves.
While some might be shocked to hear the actor as gay, but someone's sexuality is something that's celebrated, not speculated about. Meanwhile, after a press conference for his drama today, it's getting Hongsik, which is Yoo's real name, trending within a short amount of time on Twitter.