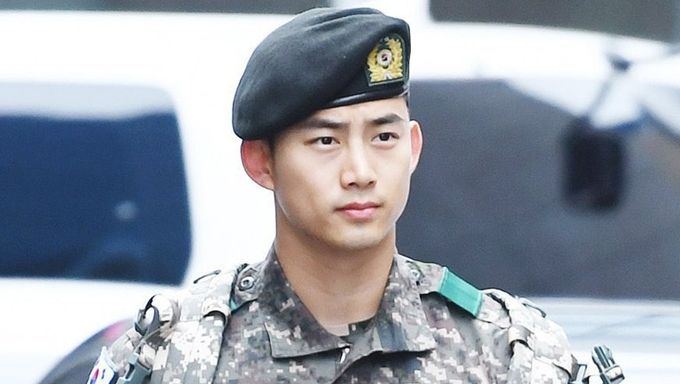 In Korea, as many know, men or young adults between the age of 18 to 28 must do their military service and many of our K-Drama oppas and K-Pop idols are not exempted from this rule. A lot of fans have their hearts broken each year as many of their favorite idols and actors have to embark on this compulsory military leave, with many calling for the government to cancel the rule.
While we are sad we won't see them as often as we like, we can always bask in our good they look in uniforms.
That said, here is a list of some of our favorite K-Pop idols and K-Drama actors who have made heads turn and hearts swoon in military uniform.
Taecyeon aka Captian Korea. It is no doubt that he is good-looking, fit, and muscular but the "Vincenzo" star shocked the world when these pictures of him looking bulk and muscular were released during his military service.
The idol who was not supposed to serve due to injuries made waves when he decided to be an active-duty officer with many applauding his courage and patriotism.
With every picture, Kim SooHyun keeps leaving up to his visual standards. The K-Drama actor known for his incredible acting talents and his stunning looks made the world stop when these pictures were released.
Like TaecYeon, he also decided to serve as an active-duty soldier instead of a public service officer even though he could've been exempted due to his heart condition that required surgery a couple of years ago.
Ji ChangWook is a very talented and popular actor who has always thrilled fans with his fast-paced action drama series and his easy handsome features that make everyone swoon in romantic movies.
The "Backstreet Rookie" and "Lovestruck in the City" star surprised many with his singing abilities during a military event while looking sharp and sexy.
Choi MinHo is no doubt known for his impeccable and striking visuals which compliments his funny charms, which is quite expected when you're the main visual of the multi-talented idol group SHINee.
So it was no surprise when pictures of him were released during his service as a marine corps officer, making fans drool in awe of how sexy and handsome he looks.
The "Vincenzo" and "Descendants of the Sun" star enlisted in the military back in August 2013 as an active-duty soldier serving at the calvary division near the border of North Korea. It was released that Song JoongKi had some concerns about his age and his celebrity status with fears that people might treat him differently. However, it seems he overcame those fears and struggles as he looked extremely happy and charming in these released photos.
When asked about his military experience in an interview with Honey Lee at the Style Icon Asia Awards, he simply responded saying "Living as a soldier made me more mature and I was able to gain valuable life's experience." "I was worried about being afraid and lonely, but it was actually like a long break. A lot of my worries went away and it turned out to be a good experience."
TVXQ's YunHo for many years has amassed fans for not just his incredible visuals but his acting talents as well as his athleticism.
The 'Thank You' singer who enlisted back on July 21, 2015, gained special recognition when he was named leader of his squad and was awarded the Best Recruit honor.
The good-looking singer thrilled fans as many compliments on how handsome he looked in the uniform. After his enlistment, he revealed on KBS "Happy Together" that he was offered a position to become a professional soldier. "I was offered a job as a professional soldier. I actually thought about becoming the first-ever celebrity to become a professional soldier until ChangMin was done with his service."
The "Strong Woman Do BongSoon" and "Hwarang" star announced that he would be enlisting in the military on June 10, 2019, leaving his fans and many alike in shock and dismay. A sad day for many as fans and reporters crowded around to get one last shot of their favorite star whom they will not see for close to 2 years.
Hearts and minds were set to rest when pictures of him were released online looking more handsome and dashing in his uniform. Park HyungSik served as a military police officer at the Capital Defense Command. He was officially discharged on January 4, 2020, following Covid-19 protocols.
Jung HaeIn is one of the few actors that served in the military before they rose to fame, but that doesn't emit him from this list.
The actor became a crowd favorite for his acting and incredible physique in the SBS hit series "While You Were Sleeping" where he starred along with Bae Suzy and Lee JongSuk. Since then he has acted in numerous projects some of which are: "Something in the Rain", "Tune in for Love", "One Spring Night", and an upcoming JTBC drama "Snowdrop" alongside BLACKPINK's JiSoo.
Yook SungJae took to Instagram to announce his mandatory military enlistment on May 11, 2019. The news came as a shock to many as the BTOB member had just made a small screen comeback with the JTBC series "Mystic Pop-up Bar" which gained lots of attention from fans.
The singer who gained notable acting popularity with his roles in series like "Guardian: The Lonely God" and serving as part of the Ministry of National Defense military band has been greatly missed by fans who are impatiently counting the days till his discharge.
Did we leave any of your favorite actors or idols out?  Comment down below who else deserves to be on this list.