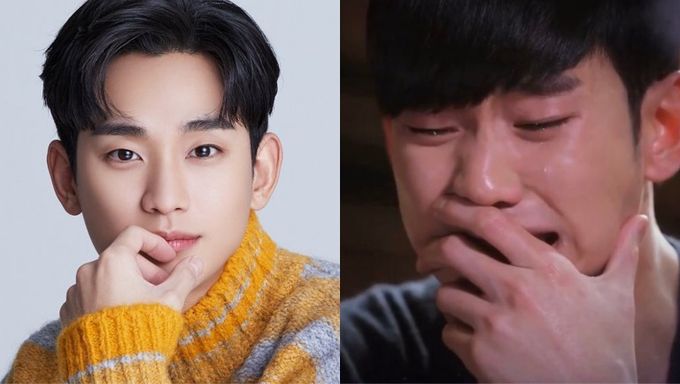 Have you ever been watching a sad scene in a K-Drama where the male leads are weeping from the bottom of their hearts but the only thing you can think about is how pretty they look even when they're making a crying face? That is exactly the power of their visuals! Even more importantly, the portrayal of male sensitivity normalizes the same in a society that still forces men to not display their emotions.
Here are 10 times K-Drama characters were crying but looked pretty as usual!
Kim SooHyun showed an incredibly honest and sincere portrayal of healing from hidden wounds in "It's Okay To Not Be Okay" as Moon KangTae. While it broke our hearts to see him cry, he looked gorgeous regardless.
Jung JoonHyung, played by Nam JooHyuk in "Weightlifting Fairy Kim Bok Joo" is one of the softest male leads in K-Drama and he does not hesitate to open up his heart and share his feelings, even if that means crying. Who won't fall in love with that puppy face?
Park SeoJun has almost always played tsundere-type characters who open up only to his beloved. However, when he does, the release is so cathartic that it tugs at our heartstrings. We can't deny that he still looks handsome nonetheless.
Fans all collectively cried when Lee DongWook, aka the cold Grim Reaper, cried in "Goblin". It was one of the most touching moments in the drama but we can't help but notice how good he looked.
"True Beauty" fans were torn between SuHo and SeoJun but they all unanimously agree that SeoJun deserved a happier ending. We can't bear to see him cry but he looks so good even when he does!
This one hurt both the K-Pop and the K-Drama community, bringing them together in their heartbreak for D.O. Not only is he an incredible actor but his visuals are out of this world too!
We can't have the Grim Reaper without the Goblin. Gong Yoo's Goblin was centuries old and yet he wept over his first love like a young boy. We wonder how he still managed to look absolutely flawless.
Seeing Park BoGum cry has to be the hardest thing in the world because one can't help but cry with him and at the same time, want to give him a big bear hug. He looks so adorable while crying that it instantly makes one feel protective over him.
Which other actor would you add to this list? Share your thoughts with Kpopmap in the comments section down below!