Watch out, K-Beauty fans - 3CE's latest cosmetic line might just be cuter than we are!
This summer, 3CE - one of the trendiest Korean cosmetic brands around - released an entire collection inspired by vintage toys, and it's definitely giving us some serious Polly Pocket flashbacks.
"LOVE 3CE" products range from $13 - 32 USD and come in a number of candy-like colors reminiscent of play make-up from our childhoods. Not only do the products come with the highly-pigmented shades that 3CE is known for, they also come in the most adorable, uber-feminine packaging.
Let's take a look at the products that make up the "LOVE 3CE" line!
Must Read : 4 Beautiful Female Idols That Women Love Even More Than Men Do
LOVE 3CE Baby Glow Cushion
Baby Glow, the line's representative BB cushion, packs on skin protection as well as customizable coverage. Available in two shades, the cream contains not only SPF 50, but grease-free moisturizer and panthenol to combat inflammation.
LOVE 3CE Cheek Maker
Coming in a range of bright pinks, browns, and beiges, LOVE 3CE's Cheek Maker blush can be applied as a shadow, bronzer, or highlighter as well. We're a huge fan of #Pink Ground, the ultra-matte pink that evokes the pop-punk mood of Tokyo's Harajuku District.  
LOVE 3CE Cheek Maker (Seen in #Pink Ground)
LOVE 3CE Duo Shadow
LOVE 3CE's Duo Shadow comes in shades that are just as wearable during the day as they are in the evening. We love the way #Stay Wild's apricot and brown duo palette elevates what would've been a rather 'nude' look with a delicate amount of shimmer.
LOVE 3CE Duo Shadow (Seen in #Stay Wild)
LOVE 3CE Glossy Lip Stick
If there's one thing 3CE has mastered as a brand, it's their amazing lip products - and LOVE 3CE's Glossy Lip Stick is yet another wonderful addition. The high-gloss finish is on-point for the summer months, and the Kool-Aid bright colors add a playful pop to your beauty routine.
LOVE 3CE Glossy Lip Stick (Seen in #Picnicker)
LOVE 3CE Heart Hand Mirror
Lastly, we've got this ultra-femme 3CE Heart Hand Mirror, which evokes some serious Polly Pocket vibes. Available in peach pink, blue, and yellow, it's easily the must-have of the collection. Have you seen anything cuter?!
LOVE 3CE Heart Hand Mirror (Seen in #Peach Pink)
Doll-inspired looks have been a trend among K-Pop idols since perhaps the very beginning of the genre, and it's only continuing to grow on popularity among street fashion as well. Bright pinks, reds, and apricots not only create a lovely and romantic color scheme, but soften the face and make it appear more bright and youthful.
Don't believe us? We've picked out recent beauty looks from BLACKPINK's Lisa, Apink's NaEun, and AKMU's SooHyun that definitely drive the point home. These girls really know how to rock the palette. 
https://www.instagram.com/p/BX4_iJogzlk/?hl=en&taken-by=blackpinkofficial
https://www.instagram.com/p/BXLb0-TgZAa/?hl=en&taken-by=marcellasne_
https://www.instagram.com/p/BYD5RK_H2uw/
Want to create a similar look with items from the LOVE 3CE collection? Fortunately for us, Stylenanda has provided a simple-to-follow tutorial on how to incorporate the trend into your everyday beauty routine.
Are you ready to get retro? Check out the full selection of products in 3CE's Love 3CE online store!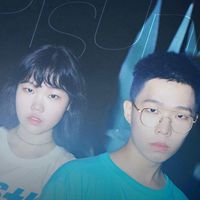 Became a fan of AKMU
You can now view more their stories