Innisfree's hottest product has teamed up with K-Pop's hottest rookie group for the coolest beauty collaboration of the summer!
As some of you might already know, the boys of Wanna One are currently the spokesmodels for Innisfree's Jeju Volcanic Color Clay Mask, the new colorful skincare line inspired by the company's popular volcanic mud pack. But what exactly does the product do?
Available in seven different colors, each one has additional naturally sourced ingredients to help improve the skin and treat various problem areas. Each one is made with the nutrient-rich volcanic mud of Korea's Jeju Island, which helps tighten pores, remove sebum, and exfoliate dead skin cells. Every pack dries to an opaque, bright color, making it fun to mix-and-match when applying.
Here's a closer look at all seven products in the line:
Must Read: Photo )) See more of Wanna One's Promotional Pictures for 'Innisfree'
Jeju Volcanic Color Clay Mask - Brightening (Yellow)
Packed with Vitamin C derivative, this brightening mask has unique anti-aging properties. Both firming and smoothing the skin while simultaneously giving it a more youthful appearance overall.
Jeju Volcanic Color Clay Mask - Hydrating (Blue)
The naturally sourced hyaluronic acid in this pack not only restores moisture, but revitalizes the skin's outer layers after heavy exposure to winds and dry weather.  
Jeju Volcanic Color Clay Mask - Vitalizing (Pink)
The line's pink mask gets its unique salmon pink color from pomegranate seed oil, one of the main active ingredients in the product that rejuvenates and refreshes the skin. It also has a great and naturally fruity fragrance!
Jeju Volcanic Color Clay Mask - Cica (Green)
"Cica" refers to any product that focuses on repairing scar tissue, and with the aid of madecassoside (a plant-based extract), using this mask will help damaged skin bounce back in no time.
Jeju Volcanic Color Clay Mask - Calming (Purple)
The calming formula of this mask line is made with panthenol, a hydrating ingredient that penetrates quickly and deeply into the skin and can be regularly used to soothe inflammation.
Jeju Volcanic Color Clay Mask - Purifying (Black)
Packed with a wider variety of mud sources than the others, this mask focuses on purifying the skin - controlling sebum and removing impurities from the skin to gently remove excess oil without irritation.
Jeju Volcanic Color Clay Mask - Refining (White)
Containing Jeju-sourced sea salt, the refining mask works to gently exfoliate the skin to create an overall smoother skin texture while balancing oily and combination skin.
So maybe the young guys of Wanna One don't necessarily need to worry about fine lines and wrinkles just yet, but when the product is so much fun to apply, it seems that they continued using the packs far after their campaign shoot was over!
Want to give Innisfree's Jeju Volcanic Color Clay Mask a try? Try one tube at a time, or mix and match for more customized skincare!
Pick up the product at any Innisfree location or buy it via web on your country's Innisfree website!
(US fans can find the masks on YESSTYLE's online store.)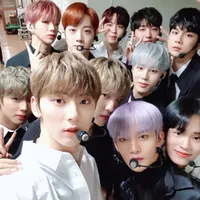 Became a fan of Wanna One
You can now view more their stories