Don't let a little thing like acne slow you down. Cover and cure with Medicube's Red Line cushion and concealer!
K-Pop idols are just like us. Some may be blessed with fantastic skin, but some suffer the pain and struggles of acne. With skin troubles being a major complex to many youth, how do K-Pop idols rock the stage? They cover them up with makeup that both covers and treats bad skin.
Must Read : Korean Beauty Tip Tuesday: APink NaEun's Moisture Packed Skin Care
Get to inside details on the latest skin trouble solution by Medicube's Red Line concealer and cushion!
After years and years of research and heart ache... I've found the solution!
If you're anything like me, you've probably battled blood, sweat and tears with those annoying breakouts and ugly acne. Well, the latest hit item by Medicube is ready to free us from the depressing chains of skin troubles!
As a teen battling with overwhelming skin trouble, I always wondered how acne-victim idols looked so fabulous on stage. The answer was always coverage, but covering my acne only made my tiny ant hills become full blown volcanoes...
But now I can be one of them! Medicube created a cushion and concealer that's perfect in both coverage and treatment. These beauty products are specifically created to give you idol-status acne coverage without all the clogging of pores with makeup and dirt!
It's too good to be true... but tell me more!!
Let's begin with the first step to coverage - Medicube's Red Line Cushion.
I bring you first hand experience, as well as the trusted reviews of power beauty blogger, Cherry's Cosmeholic. The Red Line cushion features an air puff cushion that easily applies the acne safe foundation onto your skin. The cushion comes in two colors, 201 for pale beige and 203 for honey beige. Although the fact that they lack variety in color is a minus, we hope that Medicube will release more colors later on!
The cushion can be found at a very reasonable price for all that it offers. You can get your hands on Medicube's Red Line cushion for just $31.00 USD through the company's own website store!
Dab dab dab your air cushion onto the pack, and dab dab dab it right onto you skin in patting and swiping motions. Cherry's Cosmeholic naturally has great skin, but you can tell the difference in coverage and luminosity with just one product!
Got those troubled spots that you can definitely do without? Let's cover those suckers up in Red Line's breathable concealer.
The concealer also only comes in two colors (201 and 2013). The container is shaped like a syringe that you push from the bottom to push out the liquid. The concealer is just as safe on the wallet as its cushion partner. You can get your own set for just $18.00 USD through Medicube's web store. We got the actual photo reviews from popular beauty blogger JjangSe. She has a couple red spots on her skin, and with just a few dabs of the Red Line concealer, it's like magic!
Okay, so it works wonders for a few blemishes, but what about the heavy duty acne victims? We found a great review by another beauty blogger by the name Milche. Her skin troubles were definitely more severe than our other two beauticians, so we wanted to know - did it work for her?
The results were definitely iffy as the bumps and swollen blemishes were still visible. But the coverage worked wonders like much of the other foundations that boast their coverage effects. But we can also be positive in that Medicube's Red Line cushion and concealer has the effects of treatment, as well as coverage! So I'd definitely look forward to visiting Miss Milche's skin after her use of Medicube products~
With two simple steps, you're bare beautiful just like our favorite idols.
Get goin' with your beautiful self, babes!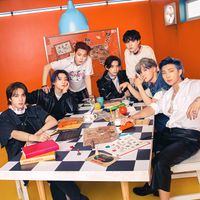 Became a fan of BTS
You can now view more their stories