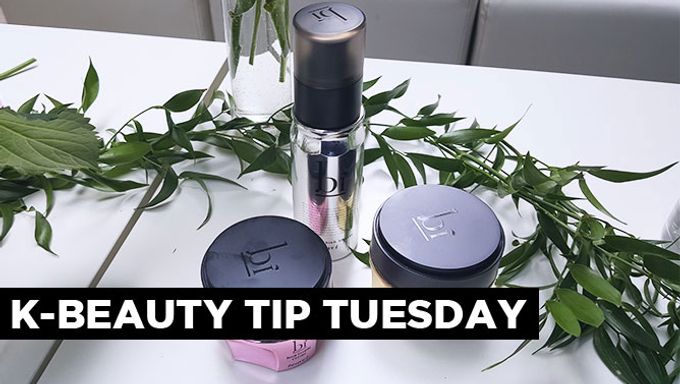 Brave Entertainment, home to the Brave Girls, launches a brand new makeup line called "Brave I".
Welcome to another edition of Kpopmap's Korean Beauty Tip Tuesday, where we share the latest Korean Beauty trends and tips from our favorite world of K-Pop. It's a little way to get closer to our idols by trying their beauty tips and methods!
Must Read : 8 Things Only Found at Brave Girls Showcase
Brave Entertainment recently held a launching in the hottest part of Seoul for their new luxury makeup brand called "Brave I". Brave Sound's CEO, Kang DongChul (aka Brave Brothers), announced that his ultimate goal for Brave Entertainment to take part in every aspect of the Hallyu Wave started with music, but has now reached its next step into the cosmetic world. With the hottest endorsers, such as the Brave Girls, Brave I will be a leading cosmetic line of high, eco-friendly ingredients that are fit for a K-Pop queen.
Check out the Brave I trio that are making their break out entrance into the Korean cosmetic industry.
1. For the Lazy Days
Brave I's Water Gelly Touch All In One is a blessing from above for those who are too lazy to apply each step of skin care at a time. The gelly serum is a combination of a toner, lotion and essence all wrapped into a chic bottle. It's the speedy solution for a smooth and radiant skin. The gel tightens as it brightens your skin, leaving your skin feeling fresh and clean from its gel-like texture. It finishes off with long lasting protection from the harsh weathers by nourishing your skin with premium natural ingredients.
For those looking for something a little more picky, we suggest Bappeun YeoJa's All In One Daily cream that was created by Lemuel Beauty. It features not only 3, but 5 different cosmetic products - toner, lotion, cream, essence and collagen. If you're looking for something more with moisturizing effects, we recommend giving Hyggee a try. Their One Step Facial Essence features an easy to use one step process that locks in the skin's moisture, while smoothing out your lines.
Brave I All In One & Lemuel Beauty All In One & Hyggee All In One
2. Answer to Your Skin Problems
Brave I's Tiger Answer Cream is the answer you've been looking for. The Tiger Answer Cream literally fits into each of your skin problems. It brightens, it tightens, it lifts, it moisturizes, it cuts oily residue, it protects and it soothes. Brave Sounds' CEO revealed that he took the most time in completing this product out of the three. He wanted it to be the holy grail of all skin creams that will fit almost every skin type. With natural, high-end ingredients, this cream acts as a glue that nourishes while supporting your makeup style. On those days where your skin just feels rough and your makeup routine just isn't settling in right, remember to lay the Tiger Answer Cream as a base to help your skin connect better.
IOPE's All In One Radiance Cream is a lot like the Tiger Answer Cream, but for a more reasonable price. This radiance cream whitens, while it protects and smooths out your skin tone. It also acts well as a makeup base, much like Brave I. For those who what the most bang for their buck, we recommend The Face Shop's The Therapy Anti-Aging No Shine Hydrating Cream. For a very budget friendly price, this cream has a decent anti-aging formula that also hydrates as it cuts oily shine.
Brave I Answer Cream & Aritaum Answer Cream & The Face Shop Answer Cream
3. A Beautiful Finish
Brave I's Real Beauty Cream is a must have for our lovely, girly readers. This soft, pink cream was designed to be the last finishing stage of skin care before you go into the foundation stage. The pearly pink texture leaves your skin tone a whole level brighter. It helps your skin look flawless and air brushed as it helps cover your pores, while smoothing out those lines. Beauty coverage, while it nourishes? Can it even get better? Just finish off with this cream and don't bother with foundation! The cream itself helps give off an instant bright and radiant glow that will make others wonder if you've applied foundation or not.
A good substitute for Brave I's Real Beauty Cream is ARITAUM's Vita Milk Cream. Although the makeup applies white, the whiteness also helps give you an instant finish of a smooth, radiant skin. The Face Shop's Rose Bloom Brightening Cream is basically the budget friendly version of Brave I's Real Beauty Cream. It may not be deemed premium or high-quality, but it certainly gets the job done! It helps with a glowing finish, while making sure to protect your skin from all the harsh damages.
Brave I Finishing Cream & Aritaum Finishing Cream & The Face Shop Finishing Cream
Your beauty reborn with courage and care through the help of Brave I!
Share your favorite beauty skin care brand in the comments section below!
xoxo
Became a fan of Brave Girls
You can now view more their stories