Ever wanted your own signature lip color in your own signature case? Krystal, with the help of Etude House, has found your solution!
Etude House just launched their latest beauty campaign that adds an extra dose of fun to its signature K-Beauty hit-items. Now that they have their innovative beaut-item, who'll help spread the word? f(x)'s Krystal, who's always in the inner circle among the hottest beauticians loved the idea and has become its sponsor model!
Must Read : Korean Beauty Tip Tuesday: HyoMin's Sexy Lips vs EunJung's Natural Lips
Are you ready to find your own limited edition Etude House x Krystal lipstick?
I'm ready to find my beautiful signature lip color for the upcoming spring season!
Etude House recently dropped their latest innovative campaign to fit all the different types of beautician styles... the Dear My Glass Tinting Lips-Talk!
What is it?
It's a mix and match lipstick where you choose your signature lip color among 20 different shades and match it with your personal choice of 20 different designs! Mix and match your way to your signature edition lipstick. f(x)'s Krystal endorses various shades, but chose her Krystal Edition as the Romantic Frill color with a cute flamingo case.
The mixing and matching is easy as 1-2-3!
First, you choose your color and case design. Second, you push in the lipstick into the bottom case until you hear a click. Third, you put on the cap and enjoy your very own Dear My Glass Tinting Lip-Talk edition!
Make your very own Dear My Glass Tinting Lips-Talk edition!
Choose your preferred case design for a simple price of $5.20 USD. Next, choose your select style among 20 colors for your personal edition lipstick for the very beauty-price friendly cost of $10.40 USD!
Hurry! It's currently 20~50% on sale!
The color glides on smoothly with a glossy finish - perfect for the bright spring season!
Etude House is revealing all of Krystal's signature colors through their Instagram on a daily basis, so check them out.
https://www.instagram.com/p/BRR6s5nDCzk/?taken-by=etude_official
https://www.instagram.com/p/BRkYEsjD-Bf/?taken-by=etude_official
Is Krystal not selling the frilly pink goodness for you? Need a little bold in your life?
Fierce unnie, Jessi also got on board with Etude House to showcase a completely different side to Dear My Glass Tinting Lips-Talk! Jessi chose bold red with a swag filled design to create her very own Swag Red Jessi edition. Why not find your true color too?
https://www.instagram.com/p/BRKKIcFDS0N/?taken-by=etude_official
Yasssss! Life is sweet, and all I've ever wanted for my signature lips!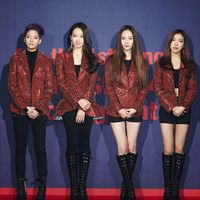 Became a fan of f(x)
You can now view more their stories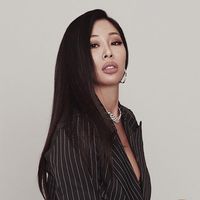 Became a fan of Jessi
You can now view more their stories