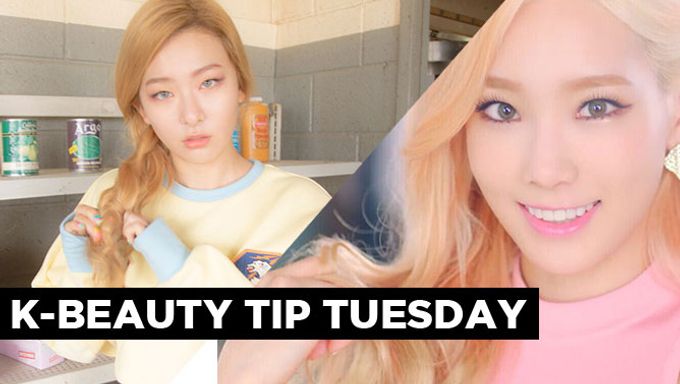 Spice up your style with contacts lenses like a K-Pop idol!
Welcome to another edition of Kpopmap's Korean Beauty Tip Tuesday, where we share the latest Korean Beauty trends and tips from our favorite K-Pop idols. It's a little way to get to know your idol better, while trying their makeup tips and methods!
Must Read : Idol Stars With Dreamlike Gray-Colored Lenses
This week, we cover the current hottest trend among the K-Pop idols. Colored contacts have been around for over a decade, but they haven't been used in the industry as much as today. It started with music videos, but now our favorite K-Pop stars wear them on the daily!
But did you know that there's a specific way to style contacts? One of the main stylists from On Style shared his know hows on best utilizing the beauty of colored contact lenses. Get the latest know-hows on how to get that K-Pop idol beauty with colored contacts!
1. Natural Eyes
If you wanna change up your daily game or just testing the waters of colored contacts, we recommend starting with natural lenses. Natural lenses are colored contacts with graphic diameters (the actual colored part of the lens) of about 12.8 mm to 13.5 mm. This gives your eyes a bold look that clearly defines your eyes, while giving it the illusion as if you have nothing on at all. For the natural look, try Clalen's Iris Soul Brown daily lenses that even miss A's Suzy recommends. If you're more of an EXID fan, Hani also endorses a great line of natural lenses from Secriss.
Suzy's Clalen Iris Soul Brown Lens
Hani's Secriss Nelly Brown Contact Lens
A professional stylist on OnStyle's "Get It Beauty" recommends these small rimmed natural lenses for people who have mono-lid eyes. Although larger lenses can give you the effect of bigger eyes, the bigger lenses also give mono-lids an unnatural look to them. To give an example, take a look at Red Velvet's SeulGi who has mono-lids. The left lens looks much more natural on her than the larger colored ones, don't you think?
2. Funky Eyes
If you're looking for something fun, why not try a crazy color for your contacts? K-Pop idols wear them all the time for music videos, concerts and more. It gives them a funky edge with an ethereal like gazes. If you're going for a color that isn't the same as your natural eye color, you're going to need a larger graphic diameter on your lenses. About 13.5 mm to 14 mm in graphic diameter (not overall diameter) is the perfect size to help you change your eye color without the weird contrast. Colored contacts are available from various stores and multiple brands, but we suggest trying French's 3 Color Gray that has a nice blend of dark gray, light gray and gold. If you're looking for a color that's completely out of this world, we find Super Pinky Violet from Pinky Paradise has a popping color that just screams K-Pop.
OnStyle's professional stylist recommends these vibrant colors for days when you plan on going out about town or headed to a club. Wearing on these on the daily may seem a bit too abnormal, but hey! You do you, girlfriend. K-Pop idols use to give themselves a little boost for their more energetic concepts. For example, TaeYeon wears her natural browns for a calmer look, but then pops in her vibrants to get the lively feel.
Get your sultry gaze on point with colored contacts like your favorite K-Pop idols!
Share your personal colored contacts style in the comments section below!
xoxo
Must Read : Oddly Coloured Contact Lenses Worn By K-Pop Idols