IOPE introduces their newly discovered and newly formulated serum that's going to keep your skin youthful and radiant - and it's Lee YeonHee approved!
You've heard the news, right? It's never too late to start worrying about the firmness and youthful radiance of your skin. Think your skin's at its maximum beauty? It's the perfect time to start protecting that youthfulness. Is your skin not at its peak? Get Lee YeonHee-like beautiful skin with one easy serum.
Must Read : Korean Beauty Tip Tuesday: Han YeSeul's Beauty Care to Living Young
Let's take a look at the newly released hit serum by IOPE - IOPE's Live Lift Serum!
Lemme be honest for a quick second. These harsh winter winds are killing me!
My skin is breaking, shedding, crying, dying and everything in between. In need of an emergency assistance, I went searching for the latest hot product that will help me regain the moisture I need, while helping me out with these widening pores. That's when I came across the beautiful SM goddess, Lee YeonHee and her advertisement for IOPE's new product line.
So to summarize what it is... IOPE's Live Lift Serum is designed especially for your ribbon zone. The ribbon zone is the area from your under-eye line down to your cheeks all the way to your jawline. The special formula was designed with agave, a desert plant that retains moisture and always stays tightly firm... and that's exactly what the Live Lift Serum is designed to do!
IOPE's Live Lift Serum a highly concentrated, potent serum that visibly improves skin's elasticity and forms a layer skin with a visibly tightening formula for smoother skin. You can clearly see the ingredient that will hold firm to your pores, planting moisture inside and closing it to keep out the dirt and toxins.
Considering that it's made from one of the most popular beauty brands in Korea, IOPE's Live Lift Serum can be a bit pricey - but we hear it's definitely worth the extra penny. You can get your hands on one by purchasing one through Aritaum's online store for $58.67 USD. For a limited time, they're also giving out a matching tote bag!
Just how good can this tangyness be? Well, we doubted it until Wonder Girls' YeEun uploaded an Instagram post that featured this little beauty. When she dabbed a bit onto her fingers, you can literally see the serum stretching and bouncing back! I guess some things are believable~
https://www.instagram.com/p/BQhms8CDS81/?taken-by=hatfelt&hl=en
We get it, we get it! We want the real deets.
This week, I referred to beauty blogger Sugar Cat Soo for our IOPE Live Lift Serum review. Is it really that tangy? Yes! Does it go on smoothly, yet retaining moisture? Yes! Sugar Cat Soo gave a glowing review about the product, putting an emphasis on its moist effects and its fresh, clean feeling. One thing that she noticed is that she wasn't able to see much of an immediate effect, so we'll have to see how it goes in the long run!
Get her full photo review by the step by step process by visiting her blog site!
As we went through the various reviews for IOPE's new line, we noticed our beauty bloggers all recommending one simple thing. Apparently using the serum in a combination with IOPE's Live Lift Cream and Live Lift Mask gives a faster and better results of a tightened, radiant skin! The combined prices of all three products may just break my bank... but if it gets me Lee YeonHee results!
IOPE Live Lift Cream & IOPE Live Lift Mask
Now that I've got YeonHee's skin, all I need is to get my life straight... Hwaiting!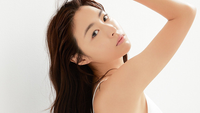 Became a fan of Lee YeonHee
You can now view more their stories