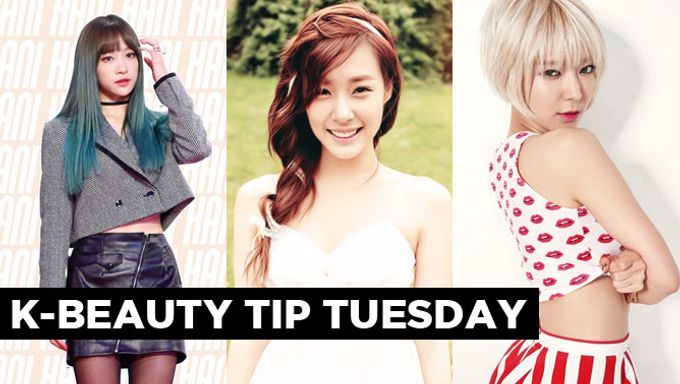 Can't find the right inspiration for your next haircut? Try a new hairstyle fit for a K-Pop Queen!
Welcome to another edition of Kpopmap's K-Beauty Tip Tuesday, where we share the latest K-Beauty trends and tips from our favorite K-Pop idols. It's a little way to get to know your idol better, while trying their makeup tips and methods!
A voting had taken place on a Korean portal, asking men which hairstyle they were most attracted to. The survey was taken among men with a light-hearted attitude, so don't get too worried if your type of hairstyle isn't on the list! However, if you've been craving for a fresh new cut, why not try one of our K-Pop idols' hairstyles? Apparently, these hairstyles are the best ways to captivate the fellas!
Must Read : K-Beauty Tip Tuesday: AOA JiMin's Baby Face
Get the signature looks of these K-Pop idols by trying on their different hairstyles. See where your next cut ranks among the men's preferences!
10. Pixie Cut
The perfect cut to showcase your bright energy with a cute boyish feel. Long hairstyles can differ between the length of the hair, as well as the condition. However, this cut adapts so well to all kinds of hair textures!
9. Two-Toned Hairstyle
Recently hitting its peak in K-Pop trend, two-toned hairstyles are when your hair length is split into two by different colors. This hair has a way of drawing the eyes away from your face, which is perfect for those who love those makeup-free lazy days. It also brightens up your  image with fun colors!
8. Braided Hairstyles
Although there are multiple ways to braid your hair, to guys it apparently all generalizes into one. According to the survey, two braids make the ladies seem more approachable than just one!
7. See Through Bangs
These bangs play hide and seek with your forehead to give you a refreshing look. Bangs may make you feel cluttered, but these bangs help you look younger, brighter, and not so bummed down. Apparently, most of the hairstyles the guys thought pretty had see through bangs.
6. Layered Cut
Layers give your hair a light weight look. It especially gives you a goddess look when curled. Always a good go-to, always classic, always a hit with the fellas.
5. Wave Perm
The wave perm makes your hair resemble water caressing down. The shampoo fragrances that waft through the bouncing curls make the  guys crazy! As advised above, make sure to get that layered cut to accentuate the curls.
4. Ponytails
If you've got a nice shape to the back of your head, this is a must for your hairstyle! Although ponytails are common and easy, the perfect ponytail takes effort. Don't forget the volume, the height of the ponytail, and the loose hair around your face to give you a softer look!
3. Bob Cuts
Want a hairstyle that's the epitome of change? A sudden change to a short bob makes the guys' hearts flutter. Especially during the spring seasons when the warm breeze slightly tousles the hair around your face.
2. The Top Bun
As if you're wearing extensions, a top bun done right gives you a more voluptuous look. The more lightly feathered hair you have around your face, the lovelier you look! The bigger the bun, the smaller your face looks, too!
1. Long Untouched Hair
Over time and time again, the long untouched hairstyle ranks number 1 among the most captivating hairstyles among the Korean men. From blowing in the wind, to lightly running your hair through, any motion taken with this hairstyle seems to speak to the men.
Hair Care & Treatment Product Suggestions
Now that you have your perfect hairstyle chosen out, don't forget the maintenance that goes into completing the look! A neglected hair has no purpose for a new cut! Try out Etude House's Silk Scarf hair care line. For a very reasonable price, these babies will keep your hair looking silky smooth. If you're not big on going for the whole 5-step system, that's fine. But, at the very least keep your hair hydrated and fresh with the hair serum or essence!
Find the Silk Scarf Hair Care Line here!
Need more damage control than maintenance? Etude House has its intensive Silk Scarf Damage Protein series for your hair revival needs. As always, Etude House offers the best deals in effective products that won't break your bank. Their Silk Scarf Damage Protein series will restrengthen and revive your hair to that glossy, fresh look! 
Find the Silk Scarf Damage Protein Series here!
Share your favorite hairstyle and tips in the comments section below!
xoxo