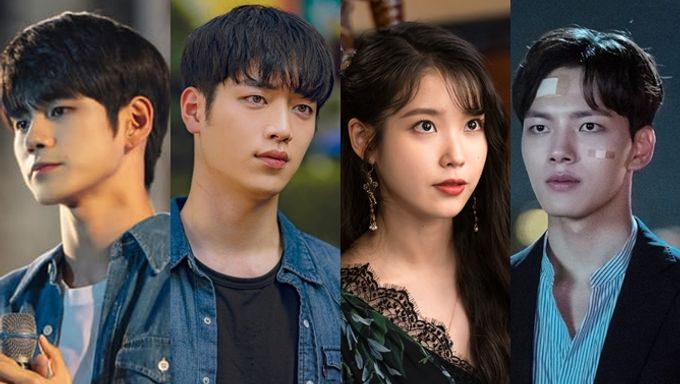 The Korean Brand Reputation Center released Korean drama actors and actresses Brand Reputation Index ranking for August 2019! They analyzed data from May 28 to Aug. 29 from 100 actors starring in airing dramas.
Chart evaluations are based on four categories, (from the left) participation, media, communication, and community.
On the top, Yeo JinGoo and IU are popular with the drama "Hotel del Luna".
1- Yeo JinGoo
2- IU
3- ASTRO's Cha EunWoo
4- Ong SeongWu
5- Lim JiYeon
6- Ji Sung
7- Jung KyungHo
8- Lee JiHoon
9- Lee Seol
10- Kang HanNa
11- Oh ChangSuk
12- Shin SeKyung
13- Kim SoYeon
14- Han JiEun
15- Chun WooHee
16- Ji JinHee
17- Lee SeYoung
18- Kim HyangGi
19- Kim HyunJoo
20- Son HyunJoo
21- Park HaSun
22- Choi YooHwa
23- Rain
24- Lee SangWoo
25- Seo KangJoon
26- Ahn JaeHong
27- Park SungWoong
28- Lee El
29- Lee SangYeob
30- Choi JinHyuk
31- Lee KyuHyung
32- Park JiHyun
33- Lee JoonHyuk
34- UKISS's Jun
35- Kwak SiYang
36- Shin SeungHo
37- Jung MinA
38- Han SukKyu
39- Bae JongWook
40- Jeon YeoBin
41- Park YooNa
42- Lee YoungEun
43- Lee HakJoo
44- Park JiYoung
45- Jo HyunChul
46- Yoon KyunSang
47- Park JinWoo
48- Park JinHee
49- Hong JongHyun
50- Son ByungHo
Read More : Top 3 Scenes That Make You Want To Fall In Love This Week