Pristin, the rookie girl group of our hearts, is finally back - and giving us a whole lot of fashion inspiration! We always love the new, surprising trends that come out of K-Pop music videos, especially girl groups, so it should be no surprise that we're dedicating this week's Korean Fashion Finds to Pristin's new music video "We Like." 

Want to know what we like? Those earrings, for starters. The girls are rocking some serious statement accessories this time around, and we've picked our three favorite earring looks to highlight for this week's feature - YeHana's mirrored frame earrings, YuHa's hot pink tassels, and KyulKyung's oversized hearts. Let's check them out! 
First up, we have YeHana's mirrored fram earrings. YeHana doesn't really have a lot of solo camera time this music video around, but you can check out her rocking the earrings during her first verse solo in the gif below.

With their strong structure and girly shape, the earrings evoke the pop art trend we've covered in previous earring looks - ie: earrings worn by ChaeYoung in TWICE's "Signal" and earrings worn by Solar is MAMAMOO's "Yes I Am." We found the same exact style offered for only $13 USD on StyleNanda's official website. Get 'em while they're hot!
StyleNanda Circle Frame Dangle Earrings
Next up, we have YuHa's long tassel earrings. We love these because the hot pink color keeps it very fun and vibrant while the length of the earring draws some sexy attention to the jawline, neck, and shoulder. Her long bob hairstyle also seems to help exaggerate just how long the earrings are.

As you can see, YuHa matches the earrings with a whole lot of hot pink in the music video. However, we think these earrings would also pop when paired with a more evening or date night style look. How cute would these be as the statement jewelry for your favorite LBD? We couldn't find the exact earrings, but we're loving these three very similar styles.
Vanessa Mooney The Natalia Tassel Earrings & Missselfridge Statement Pink Tassel Earrings & Steve Maden Tribal Textured Cherry Pink Beaded Tassel Earrings
Last up, we have the ever-so-gorgeous KyulKyung's oversized heart earrings. With large cubic zirconia detail and a white fabric bow, the look evokes the playfulness of princess dress-up. We're not the only ones getting Barbie vibes, are we?

In the video, she pairs the earrings with quite a number of different looks, but our favorite is probably the baby blue and pale pink plaid look picture above. The entire outfit is a very modern uptake on some of our favorite '90s fashion looks, making KyulKyung look like she's channeling famous fashionista Cher Horowitz from the movie "Clueless." We were fortunate enough to find her exact earrings on Chuu's official online store - where they come in multiple colors!
Chuu Prettier Than Queen Earrings
Do you dare to rock the big earring trend? Channel your inner Pristin and find an earring look that works for you!
Must Read : PRISTIN Comeback Stage for 2nd Mini Album 'SCHXXL OUT'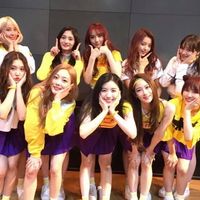 Became a fan of PRISTIN
You can now view more their stories