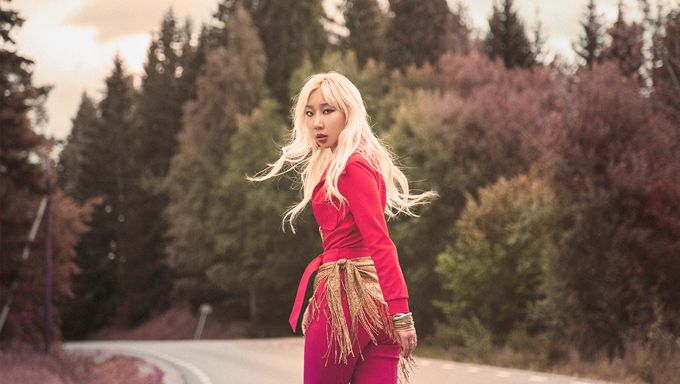 Following the critically praised single "Want U Back", South Korean rapper 'ARTLOVER' has announced the release of her debut EP "Queen Of Retro" and second single "Hakuna Matata", available for streaming on November 16.
The EP offers an eclectic mix of hip hop, retro pop and soul packed into an 80's outfit inspired by music from such icons as Madonna and Dolly Parton. The sound is the result of a collaboration between the singer and Swedish writer Max Billion (Mike Perry, Cazzette) who not only helped penn the four tracks but also co-produced them.
"'Queen Of Retro' is a story about love and loss with a hopeful twist. I really wish for people to be inspired by these songs." says the singer.
Despite regular assignments for magazines such as ELLE and Vogue, 'ARTLOVER' made a bold decision to drop the mascara and trade a flourishing make up career for something far more uncertain. She marked the transition into music with the release of her debut single "Want U Back" on March 2 earlier this year.
The single was accompanied by a striking music video filmed in the Swedish country side.
The EP was mixed by Tae-Sub Lee at JYPE (Day 6, TWICE) and Dong-Kwang Seo (Apink, Eric Nam).
Stream and buy Queen Of Retro below.
Spotify
https://open.spotify.com/album/10CUtvngrGFoC9DtXpmmrr?fbclid=IwAR2KCAOSYTutDg2Tbk3n0uodBJpp-ha-cwBX1gEpJ9RKlIEXxKJ2vU6-H9Y
iTunes
https://itunes.apple.com/us/album/queen-of-retro-ep/1441528244?fbclid=IwAR3-bxtIlSFRJnvoVE2lKqZssG3YYLgIU8vmHYvKzsd2j0fEu7fjZh1a_rI
Follow ARTLOVER
http://www.artlover-music.com/
https://www.instagram.com/artlovermusic/
https://www.facebook.com/mynameisartlover/
https://twitter.com/artlovermusic

https://soundcloud.com/artlovermusic