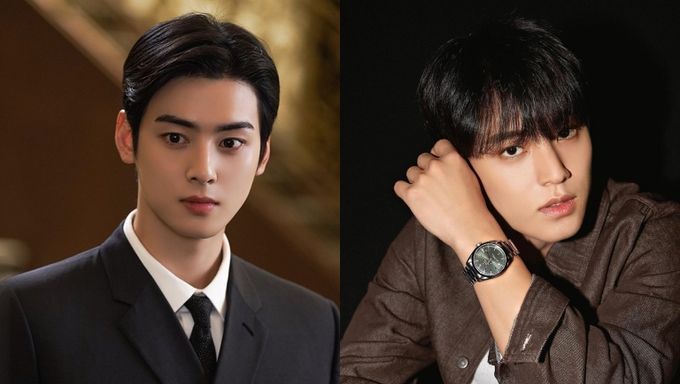 Welcome to the second article of Kpopmap's new monthly series "K-Pop Besties"! This series is celebrating all of the different friendships that exist in K-Pop. We will look at some of the moments when K-Pop idols showed off their close friendships with one another.
SHINee's Key and Girls' Generation's TaeYeon started off the series for us. This month, readers voted for ASTRO's Cha EunWoo and SEVENTEEN's MinGyu in our monthly poll (at the end of the article) to be featured in this month's article. If you are a new K-Pop fan you might not know how their friendship started. Let's take a look back at their friendship.
Cha EunWoo and MinGyu are both popular for being handsome members of their respective boy groups, ASTRO and SEVENTEEN.
In fact, there is a famous clip during an episode of "Happy Together" when the cast members of the show called them both 'face geniuses.' 
They were both born in the year 1997 and actually bonded over that fact. Their friendship group with other idols born in the same year is cutely nicknamed the 'the 97 liners'. 
You cannot talk about their friendship without including the 97 liners. The group includes BTS's JungKook, GOT7's YuGyeom and Bambam, SEVENTEEN's THE8 and DK, and NCT's JaeHyun. They have hung out together on several occasions and have a group chat together.
These photos were taken a couple of years ago, but they bring back a sense of nostalgia. Back then, MinGyu said that due to their busy schedules it is often difficult for them to meet but they keep in contact well.
However, they manage to find each other when they have similar schedules. They proved that they were inseparable when they appeared in MONSTA X's behind-the-scenes vlog of them practicing for bowling. Cha EunWoo and MinGyu had fun practicing and teasing each other on opposing teams.
This year we were blessed enough to be reminded of the group's close friendship again. GOT7's YuGyeom showed off the gifts that the group got him for his birthday in his video for ELLE.
We also got to see this cute interaction between MinGyu and NCT's JaeHyun during this bowling competition.
Here is a throwback photo from early in MinGyu and Cha EunWoo's friendship. They took the selfie backstage at "M!Countdown".
They have definitely grown up since then and we really need to see an updated selfie soon!
What do you think of these besties? Isn't their friendship just adorable?
Who would you like to see in the next "K-Pop Besties" article?
~ Nov 04, 2021
Park HyungSik and BTS's V
40.5% (1,731)
BLACKPINK's Lisa and GOT7's Bambam
11.9% (507)
Dreamcatcher's SuA and A.C.E's Jun
2% (86)
Block B's P.O. and WINNER's Mino
2% (85)
WOODZ and PENTAGON's Kino
43.7% (1,867)
Important notice: the vote only decides who will be covered in the next article. Everyone in the poll will be covered in the series eventually. Suggestions will also be gradually added each month.