Let us introduce the best adorable couple ever, BLACKPINK's unnie line, Jennie & JiSoo!
BLACKPINK's the oldest member, JiSoo is well known for the unbeatable beautiful face. Among 4 members, except for Lisa and Rose who are the youngest, Jennie and JiSoo got the position as unnies position. I bet BLACKPINK's fans are already aware of the perfect chemistry and something going on between Jennie and JiSoo. Because both of them, especially Jennie has expressed her love and affection toward JiSoo since they debuted. In lots of interviews, Jennie's favorite member was always JiSoo and even without saying, we could know it through Jennie's action and facial expression on JiSoo. 
Must Read : K-Pop Couple Fantasy: EXO's SeHun & Red Velvet's Irene
Some of fans are saying that Jennie looks so whipped to JiSoo because a cool girl like Jennie shows so much love to dorky JiSoo. It tells everything. You can tell Jennie's attitude and JiSoo's 4D attitude are in perfect harmony. Let's see how lovely they are!
Here's more pictures of them. Please look at how Jennie stares at JiSoo. You can see how much they love and care about each other.
Besides, two of them often walk together with their arms folded. How lovely they are XD! They look just like a perfect couple in high teen drama or something.
Also, they have apparently different faces but their atmosphere looks so alike. Look how they smile! When two people live together for a long time and have a good time working relationship, they often begin to look alike. This is happening in Jennie and JiSoo! It's because they are constantly mirroring each other's facial expression, which over time, builds muscle definition in the same areas of the face, even couples who don't look facially similar can appear similar in a photograph because they use the same smile. 
Here's some videos that will make you believe JenSoo couple!
What's they been up to?
They are having lots of activities on TV, Radio programs. Especially, JiSoo keeps playing MC role in SBS "Inkigayo" and Jennie are doing so well too. Whenever BLACKPINK drops a song, they make mega hit. In this time, BLACKPINK hit the spot. 'AS IF IT'S YOUR LAST' conquered every music chart and all the members are busy doing many stuffs. A few days ago, BLACKPINK held a showcase in Japan and it had great success. It was even before the official debut in Japan, over ten thousand fans had flocked. Lots of Japanese fans are looking forward to BLACKPINK's regular activity in Japan and BLACKPINK released music videos of Japanese version on Youtube a week ago. 
What other fantasy couple do you think would look so good together?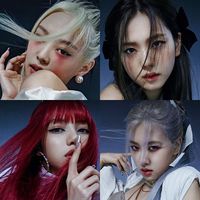 Became a fan of BLACKPINK
You can now view more their stories